| | |
| --- | --- |
| | Votre panier est actuellement vide. |

EJACULOID 60 CAPS ORGASME ET SPERME
Plus de volume de sperme avec Ejaculoid le produit phare des laboratoires Goliath .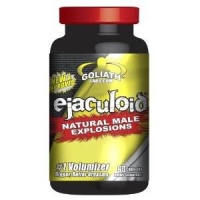 Agrandir l'image
Fournisseur : Goliath Labs
Description
Les effets EJACULOID 60  CAPS
Obtenez des orgasmes plus forts et  Augmentez le volume de sperme jusqu'à 800% - Stimulez la fertilité !
Abaissez la période de récupération - récupérez pour le deucxieme rapport sexuel plus rapidement
Désir sexuel accru - Une libido augmentée tient compte de plus rencontres
Éjaculez avec la puissance - une éjaculation plus forte avec jaillissements multiples
Amplifiez votre fertilité et confiance - motilité accrue des spermatozoides
Plus d'énergie - sensation d'etre  plus jeune et plus énergique 
Approuvé par médecins – nouvelle formulation, examinée par de grands laboratoires

Posolgie

Prendre 2 a 4 capsules  a day    et surtout 30 a 60 minutes avant les rapports sexuels

Ingredients
Composition :
Pour 2 capsules :

Proprietary Blend (mg) 462   
SupplementEjaculoid Proprietary Blend 700 mg *
Maca Powder Extract 4:1 (Lepidium Peruvianum)(Root)
Tribulus Terrestris Extract (Whole Plant)
(Standardized to 40% Saponins)
Jujube (Zizyphus Jujuba)
Horny Goat Weed Extract 20:1 (Epimedium Sagittatum)
(GABA) Gamma-Aminobutyric Acid
Yohimbe Bark Extract (Pausinystalia Yohimbe)
(Standardized to 8% Yohimbine)
Xanthoparmelia Scabrosa Extract 10:1 (Lichen)
Cnidium Monnieri Extract 4:1 (Seed)
Longjack Powder Extract 100:1 (Eurycoma Longifolia.
Avertissement :
Tenir hors de portée des enfants.
---