| | |
| --- | --- |
| | Votre panier est actuellement vide. |
28 DAYS FOR 6 PACK 90 CAPS
28 DAYS FOR 6 PACK est le produit ultime et sans concurrent pour vous faire regagner votre tablette de chocolat ou abdominaux, Redevenez une star de la beaute appollon sur les plages,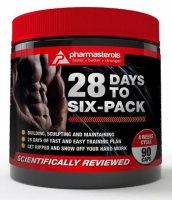 Agrandir l'image
Fournisseur : Pharmasterols
Description
28 DAYS POUR UNE CORPS PARFAIT AVEC ABDOMINAUX APPARENTS
28 JOURS POUR AVOIR LE SIX PACK est l'arme ultime pour lutter contre le poids qui va changer votre  corps et éliminer la graisse du ventre pour les hommes et les femmes, il est recommandé de faire de l'exercise ou de marcher un minimum d'une heure par jour et de suivre un régime faible en sucre et faible en gras aussi, Essayez d'éviter les glucides après 14 heures et les sucres lents dans des aliments ou des boissons en vue de stimuler la perte de graisse et obtenir le pack de six abs que vous méritez.
28 DAYS EST UN PRODUIT QUI MARCHE AVEC UN REGIME ET DE L'EXERCISE
4 semaines ou 28 jours pour un six PACK, Regime qui est facile si vous suivez les règles simples de l'alimentation et de l'exercice, cette formule a été créée par Pharmasterols afin d'atteindre votre objectif, Mangez suffisamment de protéines, mangez des glucides avant-entraînement, manger des graisses saines, concentrez vous sur votre alimentation, arrêter de faire des miliers de pumps, Utiliser des méthodes plus intelligentes et les plus importantes. Prenez 28 JOURSPOUR SIX PACK régulièrement pendant 1 mois. Vous allez avoir des resultats quasi immediats.
INGREDIENTS 
28 DAYS TO SIX PACK 

SUPPLEMENTS FACTS
 BOTTLE 90 CAPS 
INGREDIENTS/ SERVING SIZE  3 CAPS 
POWERFUL LEGAL STIMULANT  
POWERFUL MOST EFFECTIVE 
FAT BURNING INGREDIENTS
Citrus Aurantium 30% 330 mg
Autres Ingredients: Folic Acid, B-12, Chromium Chelate, L-Carnitine, Yerba Mate. Magnesium Stearate, White Willow Bark, Also 28 DAYS TO SIX PACK contains no sugar, salt, starch, nuts. Yeast. milk, egg, schellfish, preservatives, artificial flavors or colors.
POSOLOGIE: Comme un complement alimentaire Prenez 1 capsule 3 fois par jour au moment des repas.
---