| | |
| --- | --- |
| | Votre panier est actuellement vide. |
PACK ULTRA SECHE 2 PRODUITS + LIPODRAIN ELITE GRATUIT !
Pack pour une seche garantie rapide et efficace avec le Winstrol et le Clenbuterol Pro, deux bruleurs differents pour des resultats explosifs !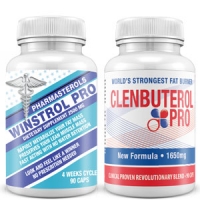 Agrandir l'image
Fournisseur : Pharmasterols
Description



PACK ULTRA SECHE AVEC WINSTROL ET CLENBUTEROL 
PACK ULTRA SECHE qui associe le WINSTROL PRO et le CLENBUTEROL PRO pour un résultat optimum. Si vous voulez perdre votre ventre mais aussi preparer une competition et devenir plus sec que jamais, Utiliser les 2 produits en meme temps pour des resultats dignes des champions , A utiliser petit a petit en augmentant les doses. Ces produits peuvent aussi etre utilises par les femmes pour des regimes d'avant Plage , Des pertes de 5 a 10 kg sur 2 mois ont ete realisees ! Alors Messieurs et Mesdasme a vos marques! Get set et commencez votre regime de l'annee avec une association toute nouvelle sans Ephedra et sans dangers pour la sante, 2 produits qui marchent en simultane 24/24 et 7/7 jours.

CLENBUTEROL PRO POUR PERDRE LA GRAISSE ET SECHER 
Clenbuterol aide à perdre la graisse et a obtenir un effet look coupe et dessiné comme dans les magazines.
Clenbuterol a des propriétés thermogéniques et métabolise la protéine et le gras a un taux maximum.
Clenbuterol augmente aussi Le BMR ( le taux métabolique de base) tour en aidant a couper la faim, ce produit est idéal pour les compétitionsde body building.
INGREDIENTS Pour : 3 capsules Bouteille de 90 Caps
Niacinamide 30 mg
Niacin 45 mg
Synephride 30 mg
Ginger Root 37.5 mg
Gotu Kola 30 mg
Maca 15 mg
Guarana 750 mg
Citrus Aurantium 30% 330 mg
Yohimbe 8% 45 mg
Garcinia Gum 50% 37.5 mg
Green Tea 45 mg
L-Tyrosine 30 mg
Caffeine 300 mg
Autres Ingredients : Folic Acid , B-12 , Chromium Chelate , L-Carnitine , Synephrine, Yerba Mate . Magnesium Stearate ,White Willow Bark , Also Clenbuterol-Pro contains no sugar , salt , starch, nuts. Yeast . milk , egg, schellfish, preservatives , artificial flavors or colors
WINSTROL PRO FAT BURNER PUISSANT
WINSTROL PRO est un produit non stéroïdien (équivalent du Stanozol) pour une préparation à une sèche rapide et efficace.
WINSTROL PRO va bruler vos graisses et faire ressortir vos abdominaux. WINSTROL est idéal pour préparer une compétition.
WINSTROL PRO va augmenter votre volume musculaire sec en même temps que de couper vos muscles comme dans les magazines de Fitness.
WINSTROL PRO a une formule triple action pour vous permettre d'obtenir les résultats souhaités.
WINSTROL PRO est garanti sans rétention d'eau.
WINSTROL PRO la toute nouvelle formulation des laboratoires Pharmasterols.
INGREDIENTS
BOTTLE OF 90 CAPS
Pour 6 Capsules :
CAPSULES TRIPLE ACTION 3600 MG
PUISSANT BRULEUR DE GRAISSE 1990 MG
Korean Ginseng (As Panax Ginseng)(Root)
N-Acetyl- L- Carnitine HCL
White Willow Bark Extract 15% P:E
CLA - Conjugated Linioic Acid
AUGMENTE LA THERMOGENESE
Caffeine Alpha Keto Gluterate - CAKG -Supplying 500 Mg Of Caffeine
(1,3,7-Trimethylxanthine)
L-Tyrosine Decanate
Banahulean
CONTROLE DE L'APPETIT 610 MG
L-Valine
Eviodiamine 98%
5-HTP -Feel Good Matrix
Vitamin D3 (As Cholecalciferol)

POSOLOGIE DU PACK: Prendre 3 gelules de chaque produits par jour , pour une cure de 1 mois a 2 mois , a repartir entre matin et midi , Pouy plus d'effets , faire de l'exercise ou bruler des calories , et un regime dietetique suivi .
---