| | |
| --- | --- |
| | Votre panier est actuellement vide. |
BUNS OF STEEL
Acheter en France BUNS OF STEEL, une formule possédant un système thermogenique, apportant la chaleur nécessaire pour aider à donner l'apparence d'un fesses serrés et tonique.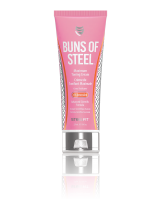 Agrandir l'image
Fournisseur : Muscle Tech
Description
COMMENT OBTENIR DES FESSES PARFAITES?
BUNS OF STEEL est une crème, qui réduit la cellulite et les vergetures en profondeur. Cette formule possède un système thermogenique, apportant la chaleur nécessaire pour aider à donner l'apparence d'un fesses serrés et tonique.
Vous désirez une réduction rapide de la cellulite, les vergetures, et la graisse sous-cutanée ?
BUNS OF STEEL réduit considérablement la cellulite, les vergetures, et l'excès de graisse avec des ingrédients actifs éprouvés qui fournissent des résultats rapides et visibles.
CARACTÉRISTIQUES ET AVANTAGES DE BUNS OF STEEL:
-Des ingrédients idéals pour modéliser votre corps.
-Possède un puissant thermogenique.
-Un bruleur de graisses.
-Une réduction significative de la cellulite.
-Élimine les vergetures.
LES CARACTÉRISTIQUES D'INGRÉDIENTS QUI ÉLIMINENT LES VERGETURES:
-Globularia cordifolia Extrait: Aide les tissus de la peau se régénèrent et détoxifie la peau en éliminant les protéines endommagées et d'autres déchets accumulés.
-Extrait zerumbet: Un agent de conditionnement de la peau qui aide à l'inflammation apaisante et la réduction du tissu adipeux.
-Keratoline: élimine en douceur les cellules mortes de la peau pour révéler plus jeune, plus saine peau.
-Caféine: Un agent favorisant la lipolyse, décomposer la graisse et d'autres lipides.
-Regestril: Prévient et réduit les vergetures.
DES INGRÉDIENTS MIRACLES POUR RÉDUIRE LA CELLULITE:
Aqua (Water / Eau), Glycine Soja (Soybean) Oil, butylène glycol, Propylène Glycol, PEG-40 Stearate, alcool cétylique, Isopropyl palmitate, Glyceryl Stearate, PEG-100 Stearate, Extrait Globularia cordifolia Callus Culture, phénoxyéthanol, PEG-8 , Parfum (Fragrance), extrait de Zingiber zerumbet, glycérine, extrait de Bupleurum falcatum root, Nicotinate de méthyle, Ethylhexylglycerin, benzyl nicotinate, caféine, Carnitine, Bacillus Ferment, benzoate de sodium, Aloe Barbadensis Leaf Juice Powder, CI 16035 (Red 40), Cetyl Hydroxyéthylcellulose , sorbate de potassium, rutine, Palmitoyl tripeptide-1, Palmitoyl tétrapeptide-7, Coenzyme A, Phaseolus Lunatus (haricot vert) Extrait de pépins.
POSOLOGIE: Appliquer Buns of Steel ™ deux fois par jour sur les zones ciblées et masser fermement dans la peau jusqu'à absorption complète. Évitez le visage et le cou. Pour de meilleurs résultats, appliquer 15 minutes avant la séance d'entraînement, après la douche et/ou avant le coucher. Vous vous sentirez léger chaleur immédiatement après l'application. Laissez la crème de sécher complètement avant contact direct avec des vêtements et du linge. Se laver les mains immédiatement avec du savon et de l'eau après chaque utilisation.
---