| | |
| --- | --- |
| | Votre panier est actuellement vide. |
TRIPLE ACTION PACK MINCEUR HOMMES / FEMMES
Acheter le Programme Pack Minceur à petit prix avec 3 Produits Minceur Extrême vraiment efficace pour perdre un maximum de poids rapidement, affiner la peau et éliminer toute l'eau en excès responsable généralement d'une cellulite excessive.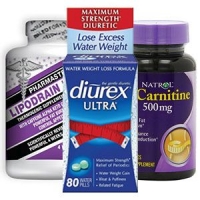 Agrandir l'image
Fournisseur : Optimum
Description
TRIPLE ACTION MINCEUR Description du Programme Pack Minceur - Minceur Extrême

Ce Programme TRIPLE ACTION MINCEUR- Minceur Extrême extrêmement complet a été conçu afin de couvrir tous les facteurs agissant sur la perte de poids, de masse grasse et d'eau. Ces 3 compléments utilisés simultanément permettent ainsi d'atteindre un résultat maximum sur 5 semaines , Comme le pack Drainage Minceur mais avec un plus avec le produit Diuretic beaucoup plus puissant pour un drainage tout en douceur.
PROGRAMME TRIPLE ACTION MINCEUR COMPREND 


- L-Carnitine  60 caps est une puissante formule lipotropique
c'est à dire que les agents actifs du L-Carnitine Xtreme ont la particularité de se fixer sur toutes les graisses de l'organisme et de les détruire instantanément en accélérant fortement leur transformation en énergie. La formule extrêmement dosée de L-Carnitine Xtreme augmente et accélère la fonte des graisses, diminue le cholestérol et améliore la texture de la peau.
Ingredients Serving Size:1 capsule
** Percent Daily Value is based on a 2000 calorie diet. Your daily values may be higher or lower depending on your calorie needs.
† Daily Value not established.
- Lipodrain Elite 100 caps est un accélérateur thermogénique
Son role est très intense pour déstocker massivement tous les acides gras mis en réserve par l'organisme. La formule extrêmement complète Lipodrain Elite permet ainsi de brûler un maximum de calories mais également d'agir sur la satiété sans baisse de forme en coupant l'appétit et en augmentant fortement l'énergie physique.
Pour 3 capsules :
Caffeine Alpha Keto Gluterate - CAKG -Supplying 275 Mg Of Caffeine
(1,3,7-Trimethylxanthine)
L-Valine
Korean Ginseng (As Panax Ginseng)(Root)
N-Acetyl- L- Carnitine HCL
White Willow Bark Extract 15% P:E
Eviodiamine 98%
Vitamin D3 (As Cholecalciferol)
5-HTP -Feel Good Matrix
L-Tyrosine Decanate
Banahulean
CLA - Conjugated Linioic Acid
Phenylethylamine (pea)
Theobromine
Hordenine
_________
Lipodrain Elite contient aussi
Folic Acid
Vitamin B12 (As Cyanocobalamin)
Vitamin B6 (As Pyridoxine HCL)
- DIUREX  80 caps  est une puissante formule diuretique  
qui, en fin de sèche, va permettre d'éliminer toute l'eau qui stagne sous la peau et d'accentuer à l'extrême la perte de masse grasse tout en coupant l'appétit.
Pour : 4 Capsules 
Magnesium (as Magnesium Oxide and Aspartate) 25.0mg 6%
Taraxacum Officinale Extract (30% Taraxasterols) 1500.0mg
Arctostaphylos Uva Ursi (Leaf) (Standardized for 20% Arbutin) 1250.0mg
Vitamin B6 (Pyridoxine Hydrochloride) 50.0mg 3846%
Green Tea Extract (60% EGCG) 200.0mg
Potassium Gluconate (16% Potassium) 100.0mg
Caffeine Anhydrous 100.0mg
Boire 2/3 litres d'eau par jour au minimum
POSOLOGIE DU PACK TRIPLE ACTION
Comme complement alimentaire , prenez 2 gelules de chaque par jour pendant environ 2/3 semaines , Prenez progressivement 1gelule au deux repas du matin et du midi pour s'habituer puis passer a deux gelules par jour de chaque si elles sont tolerees , N'oubliez pas de boire de l'eau et de faire de l'exercice .
Précautions:

Ce produit est un complément alimentaire. Ne peut être utilisé comme substitut d'un régime alimentaire varié.
Tenir hors de portée des jeunes enfants. Ne pas dépasser la portion journalière recommandée.

---