| | |
| --- | --- |
| | Votre panier est actuellement vide. |
Source Naturals Calm Thoughts (90 comprimés) - Traitement nature
Calm Thoughts™ aide aide a lutter contre la dépressions et leurs troubles liés, comme les états d'anxiété, instabilité intérieure et tristesse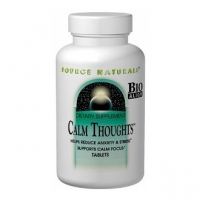 Agrandir l'image
Fournisseur : Source natural
Description
Calm Thoughts™ de Source Naturals contient un brevet  protégé, qui est désignée d'hydroxyhyperforine.
Ce produit vous permettra grace a ses herbes  comme le millepertuis (hydroxyhyperforine), Bacopa Monnier, Relora®, substances vitales ,telles que GABA, L-Théanine, magnésium, tyrosine et vitamines, vitamines B, ainsi que de substances minérales, donne à Calm Thoughts™ a vous donner un effet naturel, fortement antidépresseur !
BENEFICES 
Réduit le sentiment négatif de tristesse, d'irritabilité ou de nervosité.
Vous  serz plus detendu 
Augmente votre capacité de concentration et la capacité à prendre des décisions.
Influence de manière neuromodulaire la formation d'énergie et vous délivre ainsi de l'énergie positive.
Diminue le sentiment et la création de pensées suicidaires, les pertes de valeur, l'absence d'espoir et la culpabilité.
Augmente l'intérêt de joie, d'activité et de vie.
Réduit la nervosité et le sentiment d'être trop lent.
Vous délivre de nouveau de l'énergie vitale et ravive la performance de la mémoire.
Redonne de l'équilibre à vos habitudes alimentaires, car les dépressions mènent souvent à une assimilation plus importante de nourriture.
Rétablit l'équilibre de votre sommeil. Un réveil trop matinal, trop de sommeil ou des problèmes pour s'endormir peuvent être réduits ou entièrement résolus.
L'un des principaux composants de Calm Thoughts™ est l'hyperforine, qui représente un traitement efficace contre les dépressions. Des recherches cliniques démontrent, que l'hyperforine apaise les dépressions et la peur, ce de manière aussi efficace que des médicaments classiques, avec cependant moins d'effets secondaires.
Les autres composants de Calm Thoughts™ sont les vitamines B et les vitamines et substances minérales comme le magnésium. Un manque de vitamines B peut également engendrer une mauvaise humeur et cache souvent un manque d'acide folique. Un manque de magnésium peut engendrer de nombreux changements psychiques, y-compris des dépressions. Les signes d'un manque de magnésium ne sont pas spécifiques et comprennent aussi une mauvaise attention, la perte de mémoire, la peur, la nervosité, l'insomnie, la contraction nerveuse des muscles, les crampes et des vertiges.
Bacopa Monnieri : La petite feuille de graisse est une plante de la sorte des feuilles et appartient à la famille plantains (plantaginaceae). Sous la dénomination de Brahmi", la petite feuille de graisse est connue comme composant de la médecine d'ayurveda. Elle est utilisée pour le soutien de la performance cérébrale, des capacités spirituelles et pour l'appui en cas de stress.
La Bacopa est la source d'un extrait, qui est utilisé depuis des siècles en Inde. Elle dispose d'une utilité spécifique pour le cerveau, et les spécialistes de la médecine d'ayurveda l'utilisent généralement pour traiter des maladies spirituelles et l'épilepsie. La Bacopa semble améliorer la mémoire et la concentration, en augmentant la conductibilité du tissu nerveux. Elle est également utilisée comme calmant doux et comme anxiolytique (contre les états d'anxiété).
Dose de consommation conseillée : Prenez 1 à 3 comprimés quotidiennes aux repas.
Ingrédients : Vitamine C (as zinc ascorbate) 100 mg 170% Thiamine (vitamine B-1) 25 mg 1670% Riboflavine (vitamine B-2) 25 mg 15% Niacinamide 25 mg 120% Vitamine B-6 (as pyridoxine HCl) 25 mg 1250% Folate (as folique acide) 800 mcg 200% Vitamine B-12 (as Cyanocobalamine) 30 mcg 480% Pantothénique Acide (as calcium D-Pantothénate) 50 mg 500% Calcium (as calcium citrate) 193 mg 20% Magnésium (as magnésium oxyde and taurinate) 300 mg 80% Zinc (as zinc citrate) 15 mg 100% Manganèse (as manganèse chélate) 3 mg GABA (gamma amino butyrique acide) 600 mg L-Tyrosine (as L-tyrosine and N-acétyle L-tyrosine) 250 mg Eleutherococcus senticosus Root 200 mg Taurine (as magnésium taurinate) 128 mg Bacopa Monnier Leaf Extract (20%) 100 mg Yielding 20 mg Bacosides Relora Phellodendron amurense and 100 mg Magnolia officinalis Extract Blend L-Théanine 100 mg Lemon Balm Leaf 100 mg Valerian Root 60 mg St. John's Wort Leaf & Flower Extract (0.3%) 50 mg Yielding 0.15 mg Hypericine Ginger Root 50 mg Licorice Root Extract 50 mg Ginkgo Biloba Leaf 24% (50:1 extract) 30 mg Schizandra Fruit 30 mg
Combatez votre depression !
---