| | |
| --- | --- |
| | Votre panier est actuellement vide. |
Sam-e 200 mg 30 caps
SAMe: Bien-être, confort et équilibre émotionnel. • Nutriment anti-âge puissant • Aussi efficace que les médicaments pour soigner la dépression, l'ostéo-arthrite et les maladies chroniques du foie • Protège et répare les articulations • Bénéficie aux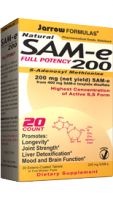 Agrandir l'image
Fournisseur : Jarrow
Description
SAMe: Bien-être, confort et équilibre émotionnel.
• Nutriment anti-âge puissant
• Aussi efficace que les médicaments pour soigner la dépression, l'ostéo-arthrite et les maladies chroniques du foie
• Protège et répare les articulations
• Bénéficie aux personnes qui souffrent de fibromyalgie
• Améliore la cognition et la vigilance chez les personnes âgées
La plupart des suppléments de SAM-e vendus dans le commerce ne répondent pas aux standards scientifiques établis. La molécule de SAM-e existe sous deux formes, une de ces formes est l'isomère SS (connu comme étant l'isomère actif), et l'autre forme est l'isomère RS (connu comme étant l'isomère inactif). Tous les suppléments de SAM-e contiennent ces deux molécules en proportions variées. Pour que le SAM-e soit efficace, il doit contenir au moins 70% d'isomères SS (forme active). La SAM-e de BIOVEA a été cliniquement testée et en contient 74% ou plus. La plupart des fabricants utilisent 50% ou moins d'isomères actifs dans leurs suppléments. Une organisation indépendante, Consumer Labs, a testé 30 suppléments de SAM-e et sur ces 30 produits, seulement 4 contenaient un niveau acceptable d'"ions actifs".
Un fois sous forme de comprimé, la SAM-e doit être recouvert d'une pellicule gastro-résistante. Cette technologie n'était pas facilement disponible avant les années 90, ce qui explique la popularité assez récente de la SAM-e.
Notre SAM-e est conditionnée en flacons ambrés avec une capsule absorbant l'oxygène dans chaque flacon, ce qui crée une barrière infaillible contre l'humidité pour assurer sa qualité et sa stabilité. La SAM-e de BIOVEA est la formule la plus puissante et la plus avancée scientifiquement et le produit le plus stable disponible sur le marché!
Qu'est ce que la SAMe?
La S-adénosyl-méthionine (SAMe) est un composé naturellement présent dans l'organisme où elle favorise le processus de méthylation par lequel des groupes méthyle (un atome de carbone et trois d'hydrogène) sont transférés d'une molécule à une autre. La méthylation est indispensable à de multiples processus enzymatiques et la SAMe est le meilleur de tous les donneurs de méthyle. De fait, la SAMe a été soumise à des dizaines d'études cliniques incluant des milliers de patients.
Bénéfices pour la santé:
SAMe, est un supplément diététique qui après plusieurs années d'études cliniques, a prouvé sans équivoque, son apport de bien-être, de confort, et d'équilibre émotionnel, à ceux qui étaient traités, et ce, seulement après quelques semaines. SAMe est un composant qui sert comme source majeur à la production de produits chimiques dans le cerveau, et protége la DNA des mutations génétiques associés au vieillissement et à la maladie.
Pourquoi prendre de la SAMe?
• 
Anti-Age:
Des niveaux élevés d'homocystéine ont des effets néfastes sur le système cardio-vasculaire et le cerveau. La SAMe intervient avec les folates, les vitamines B12 et B6, pour diminuer l'homocystéine. Des maladies impliquant des déficiences en SAMe ont été notées. La SAMe, par le biais de la méthylation pourrait jouer un rôle important dans la lutte contre le vieillissement. Les radicaux libres oxydent les acides nucléiques et inhibent la méthylation, stimulent les gènes du cancer et inhibent les gènes normaux. Les effets de la SAMe sur l'apprentissage et la mémoire chez des rats jeunes et vieux sont intéressants pour le vieillissement de l'homme.
• 
Cerveau:
Des études montrent des déficiences en SAMe chez des personnes atteintes de dépression, de maladie d'Alzheimer ou de maladie de Parkinson. Chez des personnes âgées souffrant de syndromes organiques cervicaux, la SAMe améliore la cognition et la vigilance. Le mécanisme anti-dépresseur de la SAMe semble s'exercer en augmentant la méthylation de macro-molécules comme les protéines et/ou les phospholipides, stimulant ainsi le fonctionnement des neurotransmetteurs et des systèmes de récepteurs qui leur sont associés.
• 
Articulations:
La SAMe protège et répare les articulations en augmentant le nombre des chondrocytes, les cellules du cartilage, en stimulant la synthèse des protéoglycanes par les condrocytes articulaires et en diminuant la perte de cartilages. Après avoir examiné 14 études consacrées au traitement de l'ostéo-arthrite, l'équipe de chercheurs a conclut dans son rapport que la SAMe semblait avoir une action aussi efficace que celle des médicaments anti-inflammatoires.
• 
Dépression et Anxiété:
De nombreuses études ont démontré que ce produit obtenait de biens meilleurs résultats que les traitements traditionnels anti-dépresseurs. La SAMe accroit le niveau d'importants neurotransmetteurs tels que la Sérotonine, Dopamine, Norépinephrine et Phosphatdylsérine. La SAMe est employé avec succès lors des périodes de dépression et d'anxiété lors de la désintoxiquation de patients sous drogues.
• 
Cirrhose Du Foie:
SAMe est également utilisé dans le traitement contre l'alcoolisme, et des dégats relatifs aux dommages du foie, et de cas de cirrhose. Il neutralise les estrogènes qui détruisent le foie. SAMe apporte un flot supplémentaire de bile qui aide à la digestion de la graisse.
• 
Fibromyalgie:
La SAM-e pourrait aussi bénéficier aux personnes qui souffrent de fibromyalgie. Un essai clinique à double insu avec placebo mené auprès de 44 sujets atteints de fibromyalgie a permis aux chercheurs de noter des améliorations significatives aux chapitres de la douleur, de la fatigue, de la raideur matinale et de l'humeur chez les sujets traités par rapport à ceux du groupe placebo.
Conseils d'utilisation:
Nous vous recommandons de prendre un complexe de vitamine B avec la prise de SAMe pour éviter des niveaux élevés d'homocystéine (produit par l'absorption de la SAMe). Les Vitamines B empêchent l'accumulation d'homocystéine dans le corps.
Si vous êtes sensible aux médicaments, débutez avec la moitié de la dose recommandée et augmentez graduellement la dose après une semaine de traitement.
Pour traiter la dépression, l'arthrite, la fibromyalgie et les maladies du foie: Prenez 400mg de SAMe deux fois par jour. Si vous ne constatez aucune amélioration au bout de 3 semaines, augmentez la dose à 400mg trois fois par jour. AU contraire, si les symptômes disparaissent avec 400mg deux fois par jour, vous pouvez réduire la dose à 200mg deux fois par jour.
Recommandations:
La SAMe est mieux absorbée l'estomac vide. Nous vous recommandons de la prendre une heure avant les repas ou deux heures après. Si, après la prise de SAMe, vous souffrez de nausées ou de brûlures d'estomac, prenez la SAMe avec un grand verre d'eau.
Pour éviter les troubles du sommeil, ne prenez pas la SAMe le soir. La plupart des utilisateurs constatent une légère augmentation de leur énergie après la prise de ce supplément.
La SAMe peut être combinée avec des anti-dépresseurs naturels comme le Millepertuis, et avec des médicaments anti-dépresseurs traditionnels.
Attention:
• Ne pas associer la SAMe avec des médicaments anti-dépresseurs inhibiteurs de MAO
COMPOSITION:
Une portion: 1 Comprimé
Portions par flacon: 30

Pour un comprimé:
• Vitamine B-6 (Pyridoxine HCI) 2mg
• Acide Folique 200mcg
• Vitamin B-12 (as Cyanocobalamin) 50mcg
• SAMe (S-Adénosylméthionine)
(extrait de 400mg de S-Adénosylméthionine  Disulfate Tosylate)  200mg

Autres Ingrédients: Cellulose, Croscarmellose sodique, acide méthacrylique, stéarate de magnésium (source végétale), Silice, citrate de triéthyle, acide stéarique (de source végétale), acide citrique et acide ascorbique.

Produit Végétalien
UTILISATION:
Prenez un comprimé une à deux fois par jour, de préférence l'estomac vide.

Il est recommandé de conserver ce supplément au réfrigérateur une fois ouvert.

Attention: Les individus souffrant de troubles bipolaires (maniaco-dépression) ne doivent pas prendre du SAMe sans surveillance médicale. Les femmes enceintes ou allaitant doivent consulter leur médecin avant de prendre ce produit. À CONSERVER HORS DE PORTÉE DES ENFANTS. À conserver dans un endroit frais et sec. Ne pas utiliser si l'opercule du flacon est endommagé.
---
Erreur: Failed to retrieve the Currency Converter XML document.