| | |
| --- | --- |
| | Votre panier est actuellement vide. |
Dymatize Excite 90 caps
EXCITE va vous offrir de hautes performances dans votre intimité et dans vos ébats sexuels.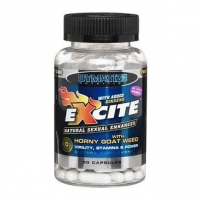 Agrandir l'image
Fournisseur : Dymatise
Description
Excite est fonde sur les dernieres recherches pour ameliorer les performances sexuelles masculines. Chaque capsule contient un MAXY melange unique d'herbes naturelles pour favoriser la libido et l'activite sexuelle. Parmi ces plantes, vous trouverez la capraire cornue, le maca, le macuna pruriens et le polypodium bulgare qui s'associent pour ameliorer la qualite de vos relations sexuelles .Comment utiliser Excite Dymatize 90 caps :
prendre de 2 ou 4 capsules par jour avant l'activite physique ou sexuelle .
Composition :
Serving size: 2 capsules
Amount Per Serving
Calories


Calories from Fat


Calories from Saturated Fat


Amount Per Serving and/or % Daily Value*
Total Fat


Saturated Fat


Polyunsaturated Fat


Monounsaturated Fat


Trans Fat


Cholesterol


Sodium


Potassium


Total Carbohydrate


Dietary Fiber


Soluble Fiber


Insoluble Fiber


Sugars


Sugar Alcohol


Other Carbohydrate


Protein


Amount Per Serving and/or % Daily Value*
Vitamin A


Percent of vitamin A present as beta-carotene


Vitamin C


Calcium


Iron


Ginkgo Biloba
100mg (0%)
Ginseng
100mg (0%)
Passion Flower
100mg (0%)
Horny Goat Weed (Epimedium Grandiflorum)
500mg (0%)
Maca (Lipidium Meyenii)
250mg (0%)
Mucuna Pruriens (L-Dihydroxyphenylalanine)
40mg (0%)
Polypodium Vulgar (20-Hydroxyecdysone)
40mg (0%)
Tribulus 10:1 Extract
200mg (0%)
*Percent Daily Values are based on a 2,000 calorie diet. Your daily values may be higher or lower based on your calorie needs.
Avertissement :
Prendre des precautions avant la prise de ce produit si vous avez des problemes de coeur ou toutes maladies , consultez un medecin .
---