| | |
| --- | --- |
| | Votre panier est actuellement vide. |
Guggulbolic Extreme 90 caps
Guggulbolic est une formule qui optimizera votre metabolisme et ameliore les effets des lipides dans le sang .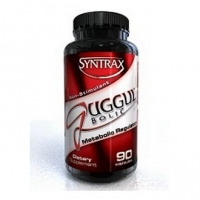 Agrandir l'image
Fournisseur : Syntrax
Description
Guggulbolic 90 caps ameliorera votre fonction thyroidienne et vous aidera a garder votre taux de base metabolique a des niveaux eleves, Avec ce taux , plus de calories seront brulees et donc vous perdrez plus de poids . Ce produit augmentera la qualite de votre peau .
Guggulbolic permettra a votre peau d'obtenir une texture plus jeune et plus tendre . Produit minceur mais aussi qualite de la peau , Guggulbolic augmentera aussi le flot de sang dans vos arteres , d'ou de meilleures sensations au niveau sexuel mais aussi sportif .
Posologie : Prendre 1 a 2 capsules  , 3 fois par jour 
Syntrax
Guggulbolic
90 capsules
Nutrition Facts
Serving Size: 1-2 Capsules
Servings Per Container: 45-90
Amount
Per Serving
% Daily
Value*
Guggul EZ (pure E&Z guggulsterones)
30
mg
Guggul Resin Extract (Standardized for 30mg Total Guggulsterones)
500
mg
*Percent Daily Values are based on a 2,000 calorie diet.
Other Ingredients: Microcrystalline Cellulose, Gelatin, Titanium Dioxide.
Recommended Use: As a dietary supplement, take 1-2 capsule three times daily. Can be combined with other fat loss agents for an increased, synergistic effect.
Warning: Use only under advice of your physician if you have a medical condition or are taking any other medication. If you are pregnant or nursing a baby, seek the advice from a health professional before using this product.
Before beginning any program of weight loss, consult your health care practitioner. These statements have not been evaluated by the FDA. This product is not intended to diagnose, treat, cure or prevent any disease.
---