| | |
| --- | --- |
| | Votre panier est actuellement vide. |
Alr Industries Jungle Warfare Extreme, 90-Count
Jungle Warfare Extreme est un composé à base d'herbes qui ont été sélectionnés pour leur effet spécifique sur les éléments clés du processus anabolisants dans le corps humain ,specialement pour ceux qui veulent prendre de la msse rapidement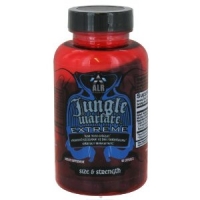 Agrandir l'image
Fournisseur : ALRI
Description
Ces ingrédients spécifiques agissent en synergie sur l'impact des voies anaboliques du corps et optimise l'acquisition musculaire maigre, sans une régulation hormonale. ALR Industries a créé une série de processus d'extraction breveté unique qui se traduisent par des rendements tres puissants des agonistes AR uniques et pro-hypertrophique substracts qui se trouve dans chacune de ces herbes. Le résultat est une synergie de Pro-hypertrophique Matrice d'ALR Industries qui garantit des résultats incroyablement efficace pour une prise de masse seche .
273-0025
ALRI
Jungle Warfare Extreme
90 capsules

Nutrition Facts
Serving Size: One (1) Capsule
Servings Per Container: 90
Amount
Per Serving
% Daily
Value*
Pro-Hypertrophic Proprietary MatrixBasella Alba Extract, Nettle Root Concentrate, (-)-3,4-divanillyltetrahydrofuran (DVTHF), Bitter Melon Extract, Resveratrol, Conjugated Coleonol Extract.
727
mg
*Percent Daily Values are based on a 2,000 calorie diet.
Other Ingredients: Gelatin, Microcrystalline Cellulose, Modified Cornstarch, Magnesium Stearate, Silica.
Recommended Use: As a dietary supplement take one(1) capsule three (3) times daily with meals. After 8 weeks of continuous use discontinue for 4 weeks.
Warning: NOT FOR USE BY INDIVIDUALS UNDER THE AGE OF 21 YEARS. DO NOT USE IF PREGNANT OR NURSING. KEEP OUT OF REACH OF CHILDREN. Do NOT consume this product if you have a medical condition and/or taking any prescription medication. Do not exceed recommended serving. Discontinue use and call a physician or licensed qualified health care professional immediately if you experience rapid heartbeat, dizziness, severe headache, or other similar symptoms.

Before beginning any program of weight loss, consult your health care practitioner. These statements have not been evaluated by the FDA. This product is not intended to diagnose, treat, cure or prevent any disease.

 

Prendre 2 capsules par jour , pendant 30 jours avant les reaps . 

 
---