| | |
| --- | --- |
| | Votre panier est actuellement vide. |
OxyBolin 250 60 tablets
Oxybolin 250 est un agent non-stéroïdiens anabolisants destinés à augmenter la masse musculaire et diminuer la graisse corporelle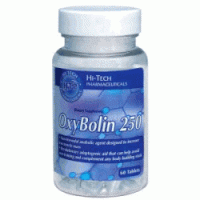 Agrandir l'image
Fournisseur : Hi-Tech Pharma
Description
Oxybolin 250 peut aider les athlètes a s'ameliorer en accelerant le  pouvoir de récupération. Oxybolin peut être utilisé seul ou en conjunction avec d'autres complements alimentaires .
Carthamoides Rhaponticum (Willd.) Iljin, syn. Carthamoides Leuzea (Willd.) DC, est une plante herbacée vivace de la grande famille des Composées. Carthamoides Rhaponticum pousse dans la zone alpine vierge et les zones subalpines, ainsi que  les prairies alpines du sud de la Sibérie. Les racines et les rhizomes sont comme des  médicaments, avec une activité biologique déterminée par la quantité de  phytoecdystone, y compris d'ecdystérone.

Rhaponticum carthamoides extrait (RCE) a démontré un effet de normalisation sur les systèmes nerveux central et cardiovasculaire. RCE améliore le sommeil, l'appétit,l' humeur, l'état mental et physique, et la capacité fonctionnelle de l'homme pendant l'entrainment . C'est un adaptogène classique, possédant un large spectre d'activités anabolisants, agissant sur les protéines contractiles des muscles squelettiques, ainsi que sur d'autres régions du corps, y compris le foie, le cœur, les reins et le cerveau. Il réduit la graisse dans  corps, améliore le travail et / ou la performance athlétique, améliore l'acuité mentale, soulage la dépression, est un tonique pour les systèmes d'organes vitaux, est fiable tonique du le sang , et retarde les effets du vieillissement. Il est utile tant pour l'andropause que la ménopause *.
OxyBolin 250
60 tablets
Nutrition Facts
Serving Size: 1 Tablet
Servings Per Container: 60
Amount
Per Serving
% Daily
Value*
Rhaponticum Carthamoides 98% Extract [Including: 20-Hydroxyecdysterone, Turkesterone and Ponasterone].
250 
mg
Proprietary Blend with Extend-Rx Technology 6-Keto-Diosgenin, 7-Keto-Diosgenin, DHEA, Beta-Sitosterol 6,7 Dihydroxy Bergamottin, Naringen, Theobroma Cocoa Extract.
400 
mg
*Percent Daily Values are based on a 2,000 calorie diet.
OxyBolin 250(tm) is a non-steroidal anabolic agent designed to increase muscle mass and decrease body fat. OxyBolin 250 (tm) is an adaptogenic aid that can help athletes from over-training by accelerating their recuperative powers. OxyBolin 250(tm) can be used alone or in conjunction with any body building stack. Its effects complement other products and are not redundant.

Other Ingredients: Microcrystaline Cellulose, Dextrose, Sodium Starch Glycolate, Hydroxy Propylmethylcellulose, Magnesium Stearate, Stearic Acid, Silica, FD&C Yellow #10.

POSOLOGIE

Prendre 1 tablette 2 fois par jour .
---