| | |
| --- | --- |
| | Votre panier est actuellement vide. |

PYRUVATE 1000 MG 90 CAPS
De chez Now Foods ; Les recherches indiquent que le pyruvate est phénoménal, non seulement pour ces effets sur la perte de poids, de la combustion des graisses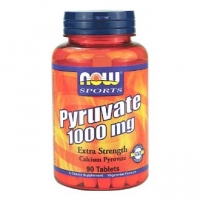 Agrandir l'image
Fournisseur : Now Foods
Description

Pyruvate - 1000 mg - Now Foods 90 caps
Les recherches indiquent que le pyruvate est phénoménal, non seulement pour ces effets sur la perte de poids, de la combustion des graisses, mais il donne également de l'énergie pour de meilleures performances pendant l'exercice.
Le pyruvate augmente le transport du glucose et des protéines dans les cellules musculaires et rehausser les niveaux de performance pendant l'exercice.
Peut être utilisé par des végétariens.
UTILISATION
Prendre 2 comprimés 1 à 3 fois par jour, de préférence pendant les repas.
INGREDIENTS
Compositiion Pour 2 tablettes


Quantité/service Apport journalier
Calcium 320 mg 30%
Calcium Pyruvate 2.0 g †

[Autres Ingrédients
Cellulose, stéarate de magnésium (source végétale)]

Contains no: sugar, salt, starch, yeast, wheat, gluten, corn, soy, milk, egg, shellfish or preservatives. Vegetarian/Vegan Product.

Calcium Pyruvate is a fully reacted supplement that combines Pyruvic Acid with Calcium.
---