| | |
| --- | --- |
| | Votre panier est actuellement vide. |

Test Sterol 1650
Pour culturistes sérieux! Trois mélanges ultra puissants avec du Tribulus,du Horny Goat Weed, et des stérols!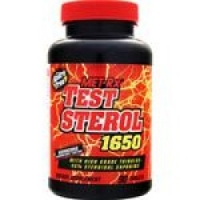 Agrandir l'image
Fournisseur : Met rx
Description
TEST STEROL 1650  MET-Rx  a été conçu par les meilleurs des Pros pour pousser  pendant leurs séances d'entraînement au-delà des limites de la douleur et pour une croissance ultime. Trois mélanges connus avec Tribulus, Horny Goat Weed, qui vous donneront des resultats de profssionnels , booster exceptionnel .

Composition
Pour 3 capsules
Total Calories 5

Sodium 10 mg <1%

Total Carbohydrates 1 g 1%

PRO-TEST COMPLEX (Tribulus (tribulus terrestris) (fruit) extract (standardized to contain 45% steroidal saponis, 225mg) and horney goat weed (epimedium sagittatum) (aerial) 750 mg

ANTI-ESTRO COMPLEX (Chrysin and indole-3-carbinol) 400 mg

BALANCING COMPLEX (Phytosterol complex standardized to contain: beta sitosterol 200mg, camoesterol 100mg, stigmasterol 55mg.
Autres Ingredients : Dicalcium Phosphate, cellulose (plant origin), croscarmellose, dextrin, hypromellose, calcium silicate, vegetable magnesium stearate, cellulose coating.
Posologie
prendre 3 capsules par jour avant les repas .
---