| | |
| --- | --- |
| | Votre panier est actuellement vide. |
Progesterone creme ,
La Progestérone naturelle peut corriger les déséquilibres hormonaux pre ou post-ménopausiques à leur origine.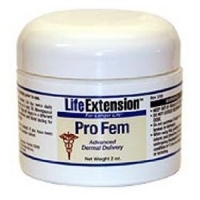 Agrandir l'image
Fournisseur : Life Extension
Description
Lorsque la crème à la Progestérone pour femme est appliquée sur la peau, elle est rapidement absorbée dans la graisse sous-cutanée puis, plus lentement, dans le flux sanguin sans être interceptée par le foie. Après quelques semaines d'utilisation, les niveaux sanguins de Progestérone reviennent à la normale et se stabilisent, en raison de l'hospitalité de l'organisme pour cette hormone naturelle. La Progestérone naturelle peut corriger les déséquilibres hormonaux péri ou post-ménopausiques à leur origine. Elle contribue à réduire les symptômes déplaisants du syndrome prémenstruel et de la ménopause.
Elle aide à prévenir l'ostéoporose : Dans une étude réalisée par le Dr J.R.Lee, qui a traité par l'application d'une crème à la Progestérone naturelle, durant trois ans , des femmes âgées en moyenne de 65 ans, la densité osseuse s'est accrue de 15,4 % ! pendant cette période, on aurait dû constater sur les mêmes femmes non traitées une baisse de densité de 4,5% (Lee JR. Is natural Progesterone the missing link in osteoporosis prevention and treatment ? Medical hypotheses, 1991, 35 : 316-318). La Progestérone naturelle aide aussi à prévenir les cancers du sein et de l'endomètre, les maladies cardio-vasculaires, et bien d'autres problèmes associés au vieillissement féminin.
Comment utiliser Progesterone Crème 56 gr :
Appliquer de ¼ à ½ cuillère à thé deux fois par jour sur le cou, la poitrine, derrière les genoux ou sur la face interne des bras ou des cuisses. Eviter les muqueuses. Changer de site d'application à chaque fois. Les femmes pré-ménopausées peuvent utiliser la crème quotidiennement pendant les deux dernières semaines du cycle. Les femmes post-ménopausées peuvent alterner deux semaines d'utilisation de la crème et deux semaines d'abstention. Les meilleurs résultats s'observent après un usage régulier.
Composition :
Chaque pot de 56 g contient 1 g de Progestérone naturelle de qualité pharmaceutique, extraite du soja, et permet de 24 à 48 applications.
Avertissement :
Si vous voulez utiliser ce produit et que vous avez des doutes sur votre état de santé, consultez votre médecin.
---