| | |
| --- | --- |
| | Votre panier est actuellement vide. |
PRIMAL MALE 120 CAPS
Primal Male 120 caps ont les avantages d'utiliser les androgènes qui aide à la libération d'hormone lutéinisante (LH) et qui prend en charge la production de testostérone en aidant a la récupération et au developpement musculaire .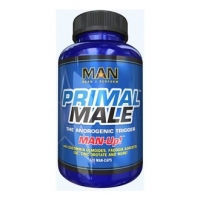 Agrandir l'image
Fournisseur : MAN
Description
Sans aucun doute, PRIMAL-MALE représente ce qui peut être décrit comme le booster de  testostérone le plus puissant / supplément androgènes potentiel t disponible -  PRIMAL-MALE produit une augmentation rapide du taux de testostérone tout en canalisant l'oestrogène pour plus d'hommes métabolites . En fournissant un environnement idéal pour les gains en force explosive, la masse maigre, et amélioration de la performance, PRIMAL-MALE peut littéralement transformer n'importe quel fiable physique  en  une véritable force de la nature, le nec plus ultra de sexe masculin -  PRIMAL-MALE.

Quels sont les avantages d'utiliser les androgènes Trigger PRIMAL-MALE?
  celui ci :
• Aide à soutenir la production de testostérone et favorise le rétablissement HPTA
• Augmente le taux  global des niveaux de testostérone - effet anabolisant sur les processus physiques et mentales, le montant des augmentations de testostérone libre, augmente la masse musculaire maigre, la force et de vigueur.
• Diminue les métabolites d'œstrogènes et - fonctionne comme inhibiteur de l'aromatase doux, métabolites canaux œstrogènes vers santé sous-produits.
• Augmentation de l'endurance
• amélioration de la performance - la promotion de l'énergie, réduit après l'exercice formation de radicaux libres, aide à la santé globale et l'endurance, améliore le processus de récupération des organismes
120 Capsules
Supplement Facts
Serving Size6MAN-Caps
Servings Per Container20
Amount Per Serving
Fadogia Agrestis SE
1500mg
†
(Alkaloids, Saponins, Anthraquinones And Flavonoids)
Eucommia Ulmoides SE (Triterpenoids And Phytolipids)
1200mg
†
Epimedium SE (Standardized For 20% Icarins)
450mg
†
Indole 3 Carbinol (I3C)
300mg
†
Zinc (From Zinc Orotate)
30mg
†
Copper Orotate
3mg
†
Vitamin B-6 (As Pyridoxine HCL)
10mg
†
† Daily Value not established
Other Ingredients
Microcrystalline Cellulose, Magnesium Stearate, FD&C Blue #1, FD&C Red #3, Titanium Dioxide, Gelatin.
Posologie : Prendre 3 capsules 2 fois par jour avec un grand verre d'eau , ne pas depasser 6 capsules
A utiliser 5 jours par semaines avec 2 jours de repos  , en cycle durand 2 a 3 mois pour plsu de resultats .
---