| | |
| --- | --- |
| | Votre panier est actuellement vide. |
VITAMINE D3 1000 MG 180 CAPS
LA Vitamine D 1000 mg 180 caps de Solgar est impliquee dans la santé des os est connue depuis longtemps. Un de ses principaux rôles biologique est de maintenir des niveaux sanguins appropriés de calcium et de phosphore. En favorisant l'absorption du cal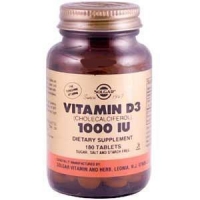 Agrandir l'image
Fournisseur : Solgar
Description
Vitamine D 1000 mg 180 caps
La vitamine D joue un rôle essentiel dans la consolidation des os et des dents. Pour un apport quotidien suffisant, il faut une alimentation riche en vitamine D combinée avec une exposition au soleil de la peau.


La vitamine D3, ou cholécalciférol, est l'une des deux principales variantes de la vitamine D, une vitamine liposoluble. Dans les suppléments nutritionnels, elle existe sous les formes D2 (ergocalciférol) et D3. Dans le foie, toutes deux sont converties en 25-hydroxy-vitamine D, ou 25(OH)D.
Depuis une dizaine d'années, les recherches montrent que la vitamine D, à condition d'être administrée à doses appropriées, pourrait avoir de nombreux autres effets bénéfiques incluant :
favoriser et maintenir des niveaux sanguins sains de sucre et de lipides ;
aider à maintenir des niveaux de pression sanguine sains ;
contribuer à la santé cardio-vasculaire ;
réduire le risque de fracture osseuse chez les personnes âgées.
La vitamine D3 a également des effets immunomodulateurs, aidant à stimuler les défenses naturelles de l'organisme.
La vitamine D3 est généralement bien tolérée chez les adultes, à des doses quotidiennes allant jusqu'à 2 000 UI alors que les autorités sanitaires ont fixé la dose de sécurité à 1000 UI/j

La vitamine D regroupe des substances différentes : les calciférols (dont les vitamines D2 et D3). L'organisme a deux sources de provenance de vitamine D : une partie est apportée par l'alimentation, l'autre est synthétisée par la peau sous l'action des rayons solaires. La principale fonction de cette vitamine est de maintenir une bonne capacité d'absorption de l'intestin pour le calcium et le phosphore. Ainsi, elle participe à la consolidation des os et des dents.
Posogie : prendre de1 a 2 capsules par jour
Ingredients > chaque capsule contient 1000 mg de vit D pure
---
Erreur: Failed to retrieve the Currency Converter XML document.