| | |
| --- | --- |
| | Votre panier est actuellement vide. |
CE2 PLATINIUM 180 CAPS
CE2 Platinum 180 caps est CE2 est une Pro-Créatine à technologie Ester révolutionnaire spécifiquement conçue pour augmenter la force, les performances athlétiques et la capacité d'exercice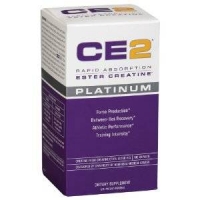 Agrandir l'image
Fournisseur : MRI Nutrition
Description

MRI® CE2™ Platinum
ESTER CREATINE™ à absorption rapide
Production de force*

Récupération entre les sets*

Performance athlétique

Intensité d'entraînement

Créatine sous forme de créatine Ethyl-Ester HCL

Developpé par l'Université du Centre Médical du Nébraska
CE2 est une Pro-Créatine à technologie Ester révolutionnaire spécifiquement conçue pour augmenter la force, les performances athlétiques et la capacité d'exercice. CE2 a été développé en collaboration avec MRI Technologies Pro-Nutriments et une équipe de recherche scientifique de l'Université du Centre Médical du Nébraska. Grace à ses nouvelles membranes cellulaires à propriété de pénétration, CE2 est l'ultime formule du muscle disponible. Bien plus, grace à ESTERTECH, le système CE2 de libération à diffusion rapide, les utilisateurs profitent des bienfaits d'une action ergogène immédiate qui leur permet de concentrer toute la force du CE2 au cours de leur entraînement. Les utilisateurs de CE2 nous ont fait part de gains significatifs en masse sèche sans avoir mentionné la présence d'oedème (rétention d'eau indésirable).*
La seule créatine parfaite au monde
Elle vous est apportée par l'Université du Centre Médical du Nébraska et MRI
"L'Université du Centre Médical du Nébraska et moi-même, nous nous sommes réunis pour apporter au monde la créatine la plus parfaite au monde. Développé à l'origine pour des applications médicales sur le terrain clinique, CE2 remplie finalement toutes ses promesses en termes de créatine."
"Grace à sa technologie reposant sur des propriétés lipophyliques supérieures, CE2 possède la faculté d'être absorbé rapidement par la circulation sanguine en quelques minutes – pas en quelques heures. C'est pour cette raison que vous pouvez finalement concentrer la puissance tout entière de la créatine pendant vos entraînements !
"En salle, vous développez une force stupéfiante et votre production d'énergie ne cesse de grimper alors que le recyclage instantanné de l'ATP apporte à votre muscle un surplus de puissance qui dépasse tous les livres des records. Tous les jours, les utilisateurs me disent que leur récupération entre les sets ne prend plus que quelques secondes et non plus quelques minutes. Et écoutez ceci ! Les consommateurs de CE2 nous font part de gains stupéfiants en masse sèche sans même mentionner la présence d'oedème (rétention d'eau indésirable)."
"Je vous dis ceci. La boîte que vous tenez entre les mains contient les clés des résultats que vous recherchez depuis longtemps. Je vous le garantis !"*
Bonne chance pour votre entraînement ,
Ed Byrd
Fondateur et directeur général de MRI
* Ces affirmations n'ont pas été évaluées par la FDA. Ce produit n'est pas conçu pour diagnostiquer, traiter, guérir ou prévenir une quelconque maladie.
Conseils d'utilisation : Prendre 2 à 4 capsules par jour, à répartir sur le matin et dans l'après-midi. Pour optimiser vos résultats, rappelez-vous de prendre 6-8 grands verres d'eau (2 litres) par jour.
Directions : Take 2-4 caplets per day, to distribue on the morning and on the afternon. On training days, make sure one of your 2 daily doses happens 30 minutes before your workout. Even if your workout is in the evening.
Informations nutritionnelles

Dosage par service

2 capsules

Services par boîte

90

 

Quantité par service

% DJ

Creatine sous forme de Créatine Ethyl-Ester (HCl)

1400.00 mg

**

** Dosage journalier (DJ) non établi
Autres ingrédients : Di-Calcium Phosphate, protéine de maïs, Kollicoat©, sirop de maïs, Magnésium stéarate
Instructions de stockage : Stocker dans un endroit sec et frais
---