| | |
| --- | --- |
| | Votre panier est actuellement vide. |
Source Naturals Progesterone Cream
Source Natural creme progesterone pour femmes Cette crème à la progestérone est la première progestérone naturelle sur le marché ! Voici la première crème à la Progestérone Naturelle qui bénéficie d'un système de pénétration liposoma

Agrandir l'image
Fournisseur : Source natural
Description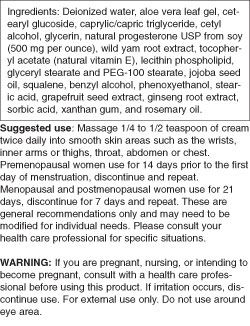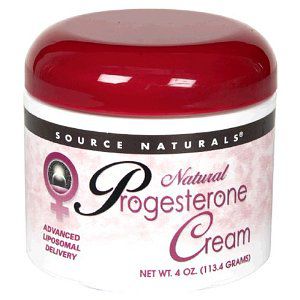 Source Naturals Progesterone Cream
En  plus d'un effet rejuvenateur  ,la creme Progesterone pour femme  aide à prévenir l'ostéoporose : Dans une étude réalisée par le Dr J.R.Lee, qui a traité par l'application d'une crème à la Progestérone naturelle, durant trois ans , des femmes âgées en moyenne de 65 ans, la densité osseuse s'est accrue de 15,4 % ! pendant cette période, on aurait dû constater sur les mêmes femmes non traitées une baisse de densité de 4,5% (Lee JR. Is natural Progesterone the missing link in osteoporosis prevention and treatment ? Medical hypotheses, 1991, 35 : 316-318). La Progestérone naturelle aide aussi à prévenir les cancers du sein et de l'endomètre, les maladies cardio-vasculaires, et bien d'autres problèmes associés au vieillissement féminin.
Consignes de sécurité
Si vous êtes enceinte, les soins infirmiers, ou ayant l'intention de devenir enceinte, consulter un professionnel avant d'utiliser ce produit de la santé. En cas d'irritation, cesser l'utilisation. Pour usage externe seulement. Ne pas utiliser autour de la zone des yeux. Ne pas utiliser si le sceau inviolable est brisé ou manquant. Tenir hors de la portée des enfants. Ce produit contient une substance chimique connue par l'État de Californie pour causer le cancer.
ingrédients
Eau déminéralisée, Aloe Vera Gel, Cetearyl glucoside, triglycéride caprylique / caprique, alcool cétylique, glycérine, progestérone naturelle Usp De soja (500 mg) par once), extrait d'igname sauvage, acétate de tocophérol (vitamine E naturelle), lécithine de phospholipides, Glyceryl Stearate & Peg-100 Stearate, huile de jojoba, le squalène, l'alcool benzylique, acide stéarique, extrait de pépins de pamplemousse, extrait de racine de ginseng, Methylparaben, Propylparaben, l'acide sorbique, gomme xanthane, et huile de romarin.
instructions
Massez quart-1/2 cuillère à café de crème deux fois par jour dans les zones de la peau lisse comme les poignets, des bras ou des cuisses internes, gorge, le ventre ou la poitrine. Les femmes non ménopausées utilisent pendant 14 jours avant la première journée de la menstruation, interrompre et répéter. La ménopause et les femmes ménopausées utilisent pour 21 jours, cesser pendant 7 jours et répétition. Ce ne sont que des recommandations générales et peuvent avoir besoin d'être motivés pour les besoins individuels. Se il vous plaît consultez votre professionnel de la santé pour des situations spécifiques. Conservez dans un endroit frais et sec.
Mentions légales
Ces déclarations ne ont pas encore été évaluées par la Food and Drug Administration. Ce produit ne est pas destiné à diagnostiquer, traiter, guérir ou prévenir une maladie quelconque.
---