| | |
| --- | --- |
| | Votre panier est actuellement vide. |
Natural Estrogen - 60 - Caplet
Natural Estrogen - 60 - Caplet poiur aider les femmes et leurs hormones .

Agrandir l'image
Fournisseur : Life Extension
Description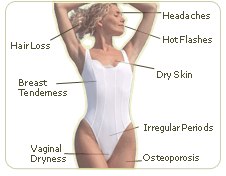 Natural Estrogen with Pomegranate Extract est la reponse pour maintenir  une fonction saine des hormones surtout en periode de menaupose . ce coktail de plantes  derives oestrogenes est la reponse au flash de la menaupose ,
Ingredients
Supplement Facts
pour 2 caplets

Servings Per Container 30

Amount Per Serving

SoySelect® soybean (Glycine max) 70:1 Extract [standardized to 13% isoflavones (52 mg), 18% Group-B Saponins (72 mg)]

400 mg

Broccoli (Brassica oleracea l.) Super Concentrate Extract (plant) [standardized to 4% glucosinolates (12 mg)]

300 mg

Pomella® Pomegranate (Punica granatum) Extract (fruit) [standardized to 30% Punicalagins (60 mg)]

200 mg

Black cohosh extract (Cimicifuga racemosa) (root and rhizome) [standardized to 2.5% triterpene glycosides (1 mg)]

40 mg

HMRlignan™ Norway spruce (Picea abies) lignan extract (knot wood) [standardized to 90% Hydroxymatairesinol potassium acetate complex (27 mg)]

30 mg

Dong quai extract (Angelica sinensis) (root) [std. to 1% ligustilide (.25 mg)]

25 mg

Licorice extract (Glycyrrhiza glabra) (root)

25 mg

Vitex extract (Vitex agnus-castus) (fruit) [std. to 5% vitexicarpin (1 mg)]

20 mg

Autres ingredients : dicalcium phosphate, microcrystalline cellulose, stearic acid, croscarmellose sodium, silicon dioxide, vegetable stearate, pharmaceutical glaze.

Contains soybeans. Contains corn.
This product contains NO milk, egg, fish, peanuts, crustacean shellfish (lobster, crab, shrimp), tree nuts, wheat, yeast, gluten, or rice. Contains NO sugar, and no artificial sweeteners, flavors, colors, or preservatives.
SoySelect® is a registered trademark of Indena S.p.A.
Pomella® is a trademark of Verdure Sciences, Inc.
HMRlignan™ is a trademark used under sublicense from Linnea S.A.
Dosage and Use
| | |
| --- | --- |
| | Prendre 2 tablettes le matin avec le peitit dejeuner . . |
| | Natural Estrogen doivent etre pris cycliquement 3 semaines et une semaine de repos , et demnarrant au 5 eme jours des regles  . |
| | inclure dans la nutrition beaucooup de legumes |
| | les femmes doivent aussi prendre une creme progesterone en meme temps que la cure de Natural Oestrogen |
---