| | |
| --- | --- |
| | Votre panier est actuellement vide. |
PLASMA JET GASPARI 80 CAPS
PlasmaJet KIT 30 JOURS de chez Gaspari Rien à voir avec les classiques produits à base d'Arginine. La vasodilation est à son paroxysme...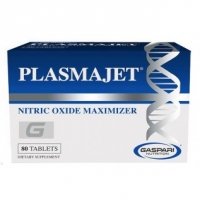 Agrandir l'image
Fournisseur : Gaspari Nutrition
Description
AVEC PLASMA JET DE GASPARI PRENEZ UNE BONNE DIZAINE DE KILOS EN PLUS
L'oxyde nitrique (NO) est l'un des plus puissants composés les renforcement musculaire dans le corps humain, il est donc pas surprenant que de nombreux produits prétendent être en mesure d'offrir des niveaux accrus. Il est vrai que beaucoup de ces produits stimulera les niveaux de NO, la vérité est qu'aucun d'entre eux sont en mesure de le faire à un point tel que vous remarquez augmentation de la taille et de la force comme nous vous attendez ... jusqu'à maintenant. PLASMAJET® est une révolution NO one-of-a-kind qui place la puissance de croissance hypertrophique maximale fermement dans vos mains!
PLASMA JET OFFRE AUX CLIENTS 
• Muscle Insane Pompes & Plénitude
• des gains énormes dans la masse musculaire maigre, Endurance, Force &
• vascularisation Maximum & vasodilatation
• Amélioration de sang, oxygène, et la livraison des éléments nutritifs aux cellules musculaires

La raison pour laquelle vous avez pas senti les pompes de séparation de la peau ou remarqué vascularisation MASSIVE après avoir pris aucun produit est le résultat d'une molécule d'atrophie musculaire connue sous le nom "arginase Enzyme". Ce composé est responsable de la conversion de NO précurseurs en sous-produits inutiles qui nous donnent aucun avantage pendant que nous formons. Avec cette enzyme libre d'errer dans notre corps, il n'a pas d'importance combien de NO boosters nous prenons, le fait est que nos limites du corps combien NO nous pouvons faire, et ne nous laisseront pas aller au-delà de nos limites génétiques.
PLASMAJET est le premier produit conçu pour non seulement augmenter les niveaux de NO, mais aussi complètement inhiber et de désactiver l'arginase enzyme avant qu'elle puisse avoir un impact négatif sur nos gains!
Contrairement aux autres vasodilatateurs, Plasmajet est le seul produit au monde capable de maintenir l'engorgement des muscles, non pas pendant des heures, mais pendant DES JOURS entiers après son ingestion, grâce une matrice unique de trois plantes: Epimedium, Gynostemma et Salvia.
Lorsque les muscles sont saturés de sang, ils n'ont pas d'autre choix que de doubler de volume, de paraître énormes, gonflés et dures comme la pierre. En utilisant PlasmaJet, c'est un peu comme si vous faisiez un bon en avant dans le temps, pour vous observer après plusieurs années d'entraînement intensif et régulier.
En effet, vous allez voir en très peu de temps et pendant de nombreux jours, à quoi vous ressembleriez avec une bonne dizaine de kilos de muscles en plus !
Mais n'oubliez-pas, les muscles seront seulement provisoirement saturés de sang et d'eau (buvez au moins 3 litres par jours), et vous ne pourrez pas rester dans cet état très longtemps car il faut arrêter le produit au bout de 4 jours et rependre après trois jours de pause.
Donc si vous souhaitez que vos muscles se remplissent de chair et de fibres, afin de consolider cette expansion provisoire en de véritables gains musculaires vous devez accompagner PlasmaJet d'un régime hyper-protéiné et calorique, notamment à l'aide d'un Gainer

Indications: Chaque boîte contient exactement 20 - 4 portions de la capsule, soit un total de 80 capsules (un approvisionnement en mois). En tant que complément alimentaire, prendre tout le contenu d'une seule et une seule carte de blister (4 capsules) 30-60 minutes avant l'entraînement de poids avec au moins 12-24 oz d'eau ou de jus. Prenez PlasmaJet® seulement sur les jours que vous activement entraînement. La plupart des personnes remarquent les effets vaso-dilatation initiale au sein de 15-45 minutes après l'ingestion. Encore une fois, ces effets ont tendance à devenir beaucoup plus visible toutes les quelques minutes par la suite. PlasmaJet® induit son maximum vaso-dilatation / résistance induire des effets au sein de 60-90 minutes après l'ingestion et se rétrécissent vers le bas à une base 6-12 heures après l'ingestion. Ne pas dépasser une portion par jour et cinq portions par semaine.

Attention: Ne pas utiliser des personnes de moins de 18 ans Ne pas utiliser si vous êtes actuellement l'allaitement, enceinte ou prévoyez de devenir enceinte.
INGREDIENTS
Serving Size: 4 capsule(s)
Servings Per Container: 20
Amount Per Serving
Gaspari Proprietary Arginase Inhibitor Matrix: 250 mg
N(omega)-hydroxy-nor-L-arginine, Boron amino acid chelate
Gaspari Hypertrophic Vaso Expansion & Phosphodiesterase Formula: 466 mg
Tri-Xanthine Blend: [Green Coffee Bean Extract, Green Tea Extract (Leaves), Theobroma Cocoa Extract (Seed)], Cnidium Monnieri Extract (98% Osthole) (Fruit),
Caffeine Anhydrous, Hypoxanthine Riboside, Adenosine-5'-Triphosphate Disodium Salt, Rauwolfia serpentina Extract (Root)
Gaspari Proprietary Nitric Oxide (NO) Support & Liposomal Delivery System: 3500 mg
Glycerol (as HydroMax), Inositol Citrulline Silicate (as Nitro-Rx™), Choline Bitartrate, Phosphatidylserine (PS), Phosphatidylcholine (PC) and purified Phosphatidylcholine in Medium-chain triglycerides
Potassium AminoAcid Complex: 99 mg
Potassium (as potassium glycinate complex)
Other Ingredients: Phospholipids from NON-GMO Soy Lecithin: Phosphatidylcholine, Lysophosphatidylcholine, Phosphatidylethanolamine, Phosphatidylinositol and Phosphatidylserine in caprylic/capric triglycerides, alcohol, glyceryl stearate, oleic acid, linolenic acids and ascorbyl palmitate, Gelatin, Dicalcium Phosphate, Microcrystalline Cellulose, Carboxymethylstarch Sodium Salt, Colloidal Silica Anhydrous, Magnesium Stearate, FD&C Blue #1, Titanium Dioxide.
---