| | |
| --- | --- |
| | Votre panier est actuellement vide. |
NOX2 180 CAPS
Acheter un vasodilatateur puissant pour exploser vos veines et vous permettre d'avoir un look sec et dure comme dans vos reves les plus inacessibles , unr formule pro !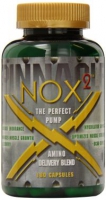 Agrandir l'image
Fournisseur : Pinnacle
Description
Description du produit:

Pinnacle Nox2 ™ est un vasodilatateur naturel pour remettre en forme votre corps . Les ingrédients de ce produit sont  des myodilators naturels qui peuvent aider les niveaux de flux de sang . Ainsi,Pinnacle Nox2 ™ va booster l'augmentation de la circulation sanguine, le transport de l'oxygène, la livraison de nutriments aux muscles squelettiques et aider vos muscles a pomper le sang un maximum pour permetter aux veines d'apparaitre et de gonfler . Dans le même temps, Pinnacle Nox2 ™  va fournir les quantités nécessaires de la chaîne d'acides aminés branchés (BCAA) pour permettre la synthese des proteines .
Pinnacle Nox2 ™ peuvent être classés en trois catégories: 1) la promotion d'une pompe musculaire prolongée; 2) de signalisation croissance musculaire et accélérant la récupération; 3) augmenter la force et l'endurance pour les pointes maximales de workouts.NoX2 ™ absorption du composé actif (A-AKG) pour assurer l'adoption et aider à soutenir les puissants effets de cette molécule.
Nutritional Information
---
Serving Size: 6 capsules
Servings Per Container: 30
Amount Per Serving %Daily Value
Vitamin B6 1.5 mg 7.5%
Pantothenic Acid 3 mg 15%
Vitamin B12 3.752 mcg 3752%
**amino acid R Alpha Keto-Glutarate (AAKG) 3000 mg†
Amino Delivery Blend™ 1500 mg†
Ruscus -22% sterolic heterosides, hesperidin methyl chalcone, ascorbic acid, L-leucine, L- isoleucine, L-Valine, Taurine
% Daily Value based on a 2,000 calorie diet
† Daily Value not established
Other Ingredients: Gelatin, Magnesium stearate, Stearic Acid, Calcium Phosphate, Titanium Dioxide
* These statements have not been evaluated by the Food and Drug Administration. This product is not intended to diagnose, treat, cure, or prevent any disease.
Utilisation suggérée : Comme supplément diététique , prendre 3 capsules deux fois par jour sur un estomac vide . Pour maximiser les résultats , boire au moins 64 onces d' eau par jour . Prendre ce produit avec de la nourriture ou ** acides aminés Gln sera probablement diminuer les effets de ce produit . Utilisé en conjonction avec votre programme d'exercice , NOX2 peut soutenir myodilation et l'expansion du tissu musculaire .

---