| | |
| --- | --- |
| | Votre panier est actuellement vide. |
PERFECT ISO PURE 1.4 KG CHOCOLAT
Achat Iso pure , ls plus pure et la plus filtree des proteines en direct des USA , Nature's best meilleur proteine ,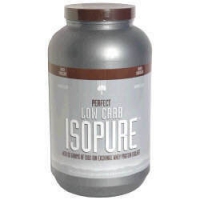 Agrandir l'image
Fournisseur : Nature's Best
Description
ISO PURE L'élixir de protéine élite. 50 grammes de 100% pur de protéines de lactosérum par échange d'ions isolent. Pas de graisse, pas de lactose et de la glutamine enrichi, avec de très faibles glucides. Sucré avec apartime libre sucralose, le seul édulcorant sans calories à base de sucre.
Sa composition est l'une des meilleures actuellement 
Ingredients
Ion Exchange Whey (Milk) Protein Isolate, Vitamin/Mineral/Amino Acid Blend (Taurine, Potassium (as Potassium Chloride), Chloride (as Potassium and Sodium Chloride), Calcium (as Dicalcium Phosphate Dihydrate), Phosphorous (as Dicalcium Phosphate Dihydrate), L-Glutamine, Magnesium (as Magnesium Oxide), Vitamin C (Ascorbic Acid), Vitamin E (as Di-Alpha Tocopheryl Acetate), Niacin, Zinc (as Zinc Sulfate Dihydrate), Vitamin A (as Palmitate), Pantothenic Acid (as D-Calcium Pantothenate), Vitamin B6 (as Pyridoxine Hydrochloride), Copper (as Amino Acid Chelate), Manganese (as Manganese Sulfate Dihydrate), Riboflavin, Thiamin (as Thiamin Hydrochloride), Folic Acid, Biotin, Iodide (as Potassium Iodide), Chromium (as Amino Acid Chelate), Vitamin K, Molybdenum (as Amino Acid Chelate), Selenium (as Amino Acid Chelate), Vitamin B12), Soy Lecithin, Natural and Artificial Flavor, Xanthan Gum, Sucralose.

Directions
Pour un délicieux boisson fruitée, mélanger 2 scoopfuls (62 g) avec 12 onces liquides de l'eau dans un shaker ou un mixeur. Si un agitateur ou un mélangeur n'est pas commode, Isopure peut être agité dans une solution avec une cuillère. Utilisez ce produit comme un complément alimentaire seulement. Ne pas utiliser pour la réduction de poids.
Ne pas donner aux moins de 18 ans, aux femmes enceintes ou allaitant, aux personnes sous traitement médical.
Mettre hors de portée des jeunes enfants.
Ne constitue pas un substitut d'un régime alimentaire varié.
Respecter les doses recommandées.
Conserver dans un endroit frais et sec
---