| | |
| --- | --- |
| | Votre panier est actuellement vide. |
ISO WHEY 100 1.7 LBS CHOCOLAT
Acheter ISO WHEY 1000 de Dymatize , une whey 100 % pure 90% de proteine filtree pour votre confort et votre prise de masse seche . Meilleur produit sur le marche actuellement 41.99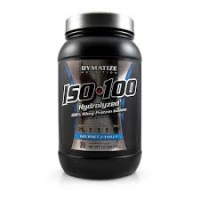 Agrandir l'image
Fournisseur : Dymatise
Description
Vous attendez le meilleur de vous-même , La whey proteine ISO - 100 est l'une des protéines les plus avancés et efficaces disponibles et développées pour vous donner 100 % de ce que vous devez pour soutenir la croissance musculaire et atteindre vos objectifs .
La protéine la plus rapide par intérim .
ISO - 100 fournit 25 grammes de proteines ultra-rapide 100 % isolat protéique de lactosérum et qui a été hydrolysé pour l'absorption encore plus rapide et la digestion. Il offre la reconstitution d'acides aminés rapide , parfait pour prendre le matin pour arrêter le catabolisme ou après un entraînement intense pour accélérer votre rétablissement . * Chaque portion de la norme ISO - 100 a 5,5 grammes de BCAA dont 2,7 grammes de L - leucine , la BCAA qui est directement impliqués dans l'activation de la synthèse des protéines musculaires pour assurer vos séances d'entraînement au maximum .
Le plus haut niveau de pureté .
ISO - 100 utilise uniquement des protéines de lactosérum dérivées de croisement de flux de traitement de microfiltration ( filtrée à froid ) pour préserver les nombreuses fractions de protéines de lactosérum importants, y compris la lactoferrine et les immunoglobulines , qui peuvent être perdus dans d'autres formes de traitement . Nous avons soigneusement formulé ISO - 100 à livrer plus de ce que vous voulez , et moins de ce que vous faites pas : sans gluten et sans lactose en plus moins d'un gramme de sucres et de matières grasses . Avec seulement une courte liste d'ingrédients , il est facile de voir pourquoi ISO - 100 est l'un des plus purs protéines disponibles . En outre, la norme ISO - 100 est produite dans notre propre usine de fabrication de GMP e
Meilleur Gout 
Dymatize a un gout tout nouveau  . Nos spécialistes en maison de saveur ont travaillé dur et longtemps pour créer un goût encore plus délicieux . ISO - 100 , la récompense que vous méritez pour votre travail acharné et leur dévouement . Si délicieusement délicieux , vous aurez hâte de le prendre chaque jour . 
Serving Size: 1 Scoop (31.7g)

Servings Per Container: ~24

Amount Per Serving

Calories

110

      

Calories from Fat

5

      

%Daily Value *

Total Fat

.5 g

1%

Saturated Fat

0 g

0%

Trans Fat

0 g

      

Cholesterol

5 mg

2%

Sodium

160 mg

7%

Potassium

290 mg

8%

Total Carbohydrate

2 g

1%

Dietary Fiber

1 g

4%

Sugars less than

1 g

      

Protein

25 g

50%

Vitamin A

0%

Vitamin C

0%

Calcium

15%

Iron

4%

* Percent Daily Values are based on a 2,000 calorie diet. Your daily values may be higher or lower depending on your calorie needs.

Ingredients:

Hydrolyzed Whey Protein Isolate

, Cocoa (Processed with Alkali)

, Natural & Artificial Flavors

, Salt

, Potassium Chloride

, Sucralose

, Stevia Leaf Extract.

Contains Milk & Soy (Lecithin).
Ajouter une cuillère à soupe de 12 onces ou 350 ml d'eau, de jus ou de lait. Mélanger pendant 15 secondes ou jusqu'à ce que complètement dispersée. Pour un maximum de résultats, prendre 2-3 portions par jour.
---