| | |
| --- | --- |
| | Votre panier est actuellement vide. |
PLATINIUM PRE ENTRAINEMENT 240 GR
Acheter le dernier produit pour un pre-entrainement nax ace optimum m 2 cuilleres vous donneront le coup de fouet necesaire a une bonne seance .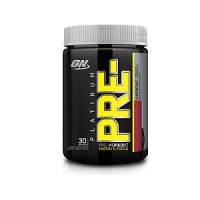 Agrandir l'image
Fournisseur : Optimum
Description
PLATINIUM PRE DE OPTIMUM
FORMATION PERFORMANCE ET SUPPORT ENDURANCE *
Bien sûr, vous attendez aussi Optimum pour fournir plus et cette formule pré-entraînement est au niveau de l' offre Platinum avec des doses efficaces de L - citrulline , Beta -Alanine , Caféine , propre PhytoBlend de l'ON , et métabolique et un soutien antioxydant . Soyez assurer que  Platinum PRE sera votre premier choix pour soutenir la performance de gains musculaires ou d'un entrainement soutenu , Un puissant concurent a Jack 3d  
INGREDIENTS ESSENTIELS  PLATINIUM PRE -
MICRONIZED CITRULLINE & PEPFORM CITRULLINE PEPTIDES

L -citrulline est un précurseur de l'oxyde nitrique ( NO) et la synthèse peut soutenir la performance pendant l'exercice de haute intensité . Chaque dose dans PLATINUM PRE - combine micronisée L -citrulline avec un système de distribution de peptide en instance de brevet exclusif . *
CarnoSyn bêta-alanine, Beta -alanine est un élément clé pour la carnosine - un composé qui aide à neutraliser les produits acides générés pendant l'entraînement de haute intensité . La recherche suggère que la supplémentation quotidienne augmente les niveaux de carnosine musculaires , l'appui des sessions de formation plus dures et plus longues . *
Fruit du capsicum : Capsicum de piments fournit un soutien métabolique . * La dose de piment dans PLATINUM PRE - a été encapsulé afin qu'il n'interfère pas avec la saveur de fruit rafraîchissant .
CAFÉINE
Comme l'objet de nombreuses études , la caféine est l'une des performances les plus bien documenté soutien composés . Avec l'énergie accrue et la vigilance , la caféine a été suggéré d' aider à aiguiser la concentration mentale et à réduire la perception de l'effort physique pendant l'exercice. *
PHYTOBLEND + VITAMINE C
Un mélange de Beat poudre de jus , extrait de pépins de raisin et de bioflavonoïdes d'agrumes avec une puissante dose de vitamine C fournit un soutien antioxydant pour compléter cette formule complète de pré-entraînement . *
2 boules fournir:
4 grammes de L-citrulline: un acide aminé précurseur de NO
3,2 grammes de bêta-alanine à l'appui Endurance de formation
L'énergie et le soutien métabolique
Haute valeur antioxydante
Performance Support de formation
Ingredients 
240 Grams

Superfruit

Serving Size

1

Scoop

(8

g)

Servings Per Container

30

Amount Per Serving

% Daily Value

Calories

5

Total Carbohydrate

1

g

<1%*

Protein

<

1

g

1%*

Vitamin C (As Ascorbic Acid, Acerola Extract)

100

mg

167%

Sodium

60

mg

3%

Potassium (As Potassium Chloride)

70

mg

2%

L-Citrulline (As Micronized L-Citrulline, PepForm® Citrulline Peptides [L-Citrulline, Hydrolyzed Whey Protein Isolate])

2

g

†

CarnoSyn® Beta-Alanine

1.6

g

†

DMAE Bitartrate

250

mg

†

PhytoBlend Beet Juice Powder, Grape Seed Extract (Vitis Vinifera)(Seeds), MegaNatural® Red Wine Grape Extract (Vitis Vinifera)(Fruit), Citrus Bioflavonoids

250

mg

†

Caffeine

200

mg

†

Capsimax™ Capsicum Extract (Capsicum Annuum)(Fruit)(Standardized For Capsaicinoids)

125

mg

†

* Percent Daily Values are based on a 2,000 calorie diet

† Daily Value not established
Other Ingredients:

Citric Acid

, Natural And Artificial Flavors

, Malic Acid

, Silicon Dioxide

, Calcium Silicate

, Lecithin

, Sucralose

, Acesulfame Potassium.

Allergen Information:

Contains Milk And Soy (Lecithin) Ingredients.
Posologie :
Mélanger chaque dose avec 6-10 oz (177-295mL) d'eau froide (à la douceur souhaitée) et consommer immédiatement. Commencez avec une cuillère ou moins pour évaluer votre tolérance.
Ne pas faire plus de 2 portions par jour.
Avertissements: Ne pas utiliser par ceux qui ont des conditions médicales pré-existantes ou de prendre des médicaments, les personnes de moins de 18 ans ou plus de 50, les femmes qui sont enceintes, qui envisagent une grossesse ou l'allaitement, ou ceux qui sont la caféine ou de bêta-alanine sensible. Ne pas consommer de caféine / stimulants d'autres sources ou dans les 4 heures avant le coucher. Tenir hors de portée des enfants. Conserver dans un endroit frais et sec.
---