| | |
| --- | --- |
| | Votre panier est actuellement vide. |
MASS FUSION GAINER 7.25 KG CHOCOLAT
Acheter LE VRAI DES USA Gainer de 7.25 kg! pour prendre de la masse rapidement avec votre entrainement . Original en provenance des USA et a un pris bas transport comoris de 109.90 !! Choisissez Vanille ou Chocolat ! dans les commentaires .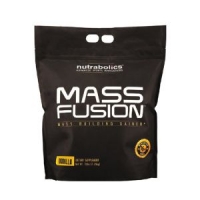 Agrandir l'image
Fournisseur : Nutrabolics
Description
MASS FUSION ET MASSE MUSCULAIRE   7.25 KG CHOCOLAT
MASS FUSION EST LA FORMULE ORIGINALE EN DIRECT DES USA AVEC TOUT LES INGREDIENTS PURS ET ORIGINAUX 

MASSFUSION ™ est un " gagnant " qui est conçu pour soutenir UNE PRISE DE MASSE VIOLENTE  tout en aidant à maintenir les gains de seche que vous aviez auparavant faits ! 
MASS FUSION est parfait pour les adeptes d'un entrainement dur et pour les culturistes lourds OU MEME DEBUTANTS , la formule contient des glucides a liberation progressive qui aident à stabiliser les fluctuations d'insuline dans le sang tout en augmentant la genèse du glycogène et le volume de la cellule musculaire  * Contrairement aux conccurents  il n'y a pas de sucres simples ajoutés arbitrairement  ,  seulement 7.25 kg de proteine pure de construction anabolisante *
Augmenter votre endurance ANABOLIQUE *

L'énorme MASS FUSION 7.25 KG  est emballe dans un sac indestructible !  Protéines à libération prolongée Matrix. Ce mélange est scientifiquement conçu pour fournir des niveaux élevés d'un rapport spécifique d'acides aminés qui sont proposés pour stimuler la synthèse des protéines  pour la croissance musculaire maximale que vous voulez !. *
MASS FUSION contient des Protéines à libération rapide , comme l'isolat protéique de lactosérum mais qui sont complétées par des protéines à digestion lente tels que l'hydrolysat de caséine . * L'action globale de ces protéines entraîne une alimentation constante de vos tissus musculaires . Lorsqu'il est combiné avec les acides aminés à chaîne ramifiée ajoutée comme la L- leucine et L -valine, ce gainer dur à cuire est amorcée pour aider à garder votre corps anabolisant pour jusqu'à 8 heures apres la prise !
OPTIMISER PROTÉINES SYNTHESE *
La matrice Waxybolic glucides ™ trouvée dans chaque portion est un mélange puissant qui fournit la quantité idéale d'énergie nécessaire pour alimenter même les séances d'entraînement la plus éprouvante , tout en soutenant la croissance du tissu musculaire et la récupération . * Ces glucides complexes déclenchent régulièrement la réponse à l'insuline nécessaire pour transporter efficacement acides aminés dans les tissus musculaires tout en soutenant un équilibre sain de cortisol, l' hormone catabolique. *
MASS FUSION pour atteindre vos objectifs d' apport calorique
MANGER SOUVENT est important dans l'alimentation de toute bodybuilder ,mais étant donné la fréquence que vous avez besoin de manger , le coût élevé des aliments sains , et l'inconvénient de porter des kg de nourrirures avec vous ...MASS FUSION est la solution a tout cela  , le gagnant peuvent être l'arme secrète des champions. MASSFUSION ™ fournit une dose de calories de 950 massive des macros de renforcement musculaire en seulement 1 portion ! Chaque secousse mêle douceur et fournit tous les nutriments dont vous avez besoin pour une prise de masse Violente
 . * Ajoutez MASS FUSION à votre régime alimentaire et un programme de formation et vous serez choques par la progression de vos muscles et de votre prise de masse seche ! 
INGREDIENTS 
16 Lbs.

Chocolate

Serving Size

3

Scoops

(235

g)

Servings Per Container

31

Amount Per Serving

% Daily Value

Calories

950

Calories From Fat

81

Total Fat

9

g

14%*

Saturated Fat

2

g

10%*

Trans Fat

1

g

†

Cholesterol

20

mg

7%*

Sodium

400

mg

17%

Potassium

350

mg

10%

Total Carbohydrates

170

g

57%*

Dietary Fiber

2

g

8%*

Sugars

28

g

†

Protein

47

g

94%*

Calcium

150

mg

15%

* Percentage of daily values are based on a 2000 calorie diet

† Daily Value not established
Other Ingredients:

Waxybolic™ Carbohydrate Matrix (Hydrolyzed & Fractionated Waxy Maize Starch

, Glucose Polymers

, Crystalline Fructose

, Hydrolyzed Rice Syrup

, Trehalose)

, MASSFUSION™ Penta-Stage Sustained Release Amino Acid Enhanced Protein Matrix [Complete Spectrum Whey Protein Hydrolysate

, Casein Hydrolysate

, Cross-Flow Micro-Filtered Whey Protein Isolate

, Micellar Casein

, Whey Protein Concentrate

, L-Glutamine

, L-Leucine

, L-Isoleucine

, L-Valine

, L-Glycine)

, CEO™ Advanced Creatine Complex (Creatine Monohydrate

, Creatine Ethyl Ester

, Creatine Orotate)

, SuperFats™ Metabolic Fatty Acid Complex (Conjugated Linoleic Acid From Sunflower Oil

, Medium Chain Triglycerides From Fractionated Coconut Oil

, Non Dairy Creamer (Sunflower Oil

, Corn Syrup Solids

, Sodium Caseinate

, Mono And Di-Glycerides

, Di-Potassium Phosphate

, Tri-Calcium Phosphate

, Soy Lecithin

, Tocopherols)

, Natural And Artificial Flavours

, Xanthan Gum

, Cellulose Gum

, Carrageenan

, Caramel Color

, Sucralose

, Acesulfame Potassium

, Cocoa.

Allergen Warning: Contains Ingredients From Milk. Made In A Plant That Also Processes Egg, Soy, Peanut, Tree Nuts, Fish, Crustaceans/shellfish And Wheat Products.
POSOLOGIE : Pour un shake crémeux, mélangez 3 cuillères de MASS FUSION ™ dans 10 à 20 ml (selon la consistance désirée) d'eau ou de lait froid glace. Pour de meilleurs résultats boivent 2 portions par jour. 1 portion pour le petit déjeuner et une autre au service tout au long de la journée.
* Ces déclarations n'ont pas été évaluées par la Food and Drug Administration. Ce produit n'est pas destiné à diagnostiquer, traiter, guérir ou prévenir une maladie quelconque.

---