| | |
| --- | --- |
| | Votre panier est actuellement vide. |
ADRENAL RESPONSE 90 CAPS SURRENALES
Adrenal Response est une formule botanique qui s'adresse à aider et à soutenir les déséquilibres biochimiques, les niveaux de cortisol en particulier, liés à des altérations de la fonction surrénalienne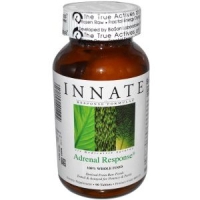 Agrandir l'image
Fournisseur : Innate
Description
Adrenal Response (Réponse surrénale )est une formule adaptogène méticuleusement étudié en utilisant les nutriments cliniquement prouvés, des herbes et des aliments complets pour aider les glandes surrénales réponse naturelle. Cette formule botanique s'adresse à aider à soutenir les déséquilibres biochimiques, les niveaux de cortisol en particulier, liés à des altérations de la fonction surrénalienne.
L'utilisation de ces vegetaux adaptogènes non-stimulants est une méthode sûre et efficace de contribuer à moduler une réponse au stress des individus ou des perturbations hormonales. * Fabriqué à partir d'une combinaison synergique d'extraits de plantes, l'inclusion primaire est Sensoril. Sensoril est un extrait breveté de recherches approfondies et éprouvées de la racine ashwagandha et de feuilles, qui a été cliniquement prouvé pour renforcer la réponse naturelle du corps au stress. Rhodiola, un adaptogène qui a été documenté pour aider à normaliser la manière dont le corps réagit au stress déclenche et maintient l'équilibre au sein de l'axe hypothalamo-hypophyso-surrénalien (HHS) s 'astragale, le basilic sacré, schizandra et le ginseng américain sont inclusions complémentaires sélectionnés pour leur capacité à améliorer la résistance globale bodys et l'énergie vitale. Adrenal Response est une formule inégalée pour fournir une solution non-glandulaire exceptionnel pour soutenir efficacement une réaction de stress sain dans le corps.
INGREDIENTS 

Vitamin C (as calcium ascorbate) 500 mg 

Vitamin B5 (as calcium pantothenate) 100 mg 

Magnesium (citrate, malate) 100 mg 

Vitamin B6 (as pyridoxal-5-phosphate) 50 mg 

Zinc (as picolinate) 10 mg 

Rhodiola rosea extract (3% rosavins, 1% salidroside) 200 mg 

Astragalus root Astragalus membranaceus150 mg 

Maca Lepidium meyenii 125 mg

Ashwagandha extract (3.5% withanolides) 100 mg 

Holy basil leaf extract (2.5% ursolic acid) 100 mg 

Panax Ginseng extract (10% ginsenosides) 100 mg 

Schizandra berry Schizandra chinensis 75 mg 

Eleutherococcus senticosus (20:1) 50 mg

Other Ingredients:
Vegetarian capsule (HPMC and water) cellulose.
---
Erreur: Failed to retrieve the Currency Converter XML document.