| | |
| --- | --- |
| | Votre panier est actuellement vide. |
LAXATIF PULVERISATEUR
Lavement intestinal et Laxatif solution Saline Pour le soulagement de la constipation occasionnelle ou le nettoyage du côlon avant examens rectaux.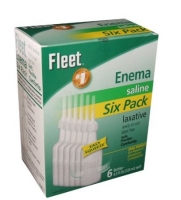 Agrandir l'image
Fournisseur : Fleet Enema
Description
6 Bouteilles (133 mL)
Prêt-à-utiliser salin laxatif
#1

recommande

par les

médecins

Sans latex

Facile a

utiliser

 
Complete enema in a disposable squeeze bottle with soft, pre-lubricated Comfortip®
Fleet Enemas are Latex free. Allergic reaction to materials containing Latex is a growing and serious medical problem.
  #1 médecin recommandé Latex Soft gratuit, lavement Comfortip Flexible facile Squeeze ® bouteille plastique souple et jetable souple, pré lubrifiés Comfortip
Indications
Usage rectal.   Avertissement: Utiliserplus d'un lavement dans 24 heures peut être nocif. Demandez à un médecin avant d'utiliser ce produit si vous : sont sur un régime pauvre en sodium, souffrez d'une maladie rénale, ou êtes enceinte ou allaitez.
demandez un médecin avant d'utiliser n'importe quel laxatif si vous avez : douleurs abdominales, des nausées ou vomissements, un changement soudain dans le transit intestinal dure plus de 2 semaines ou si vous avez déjà utilisé un laxatif depuis plus de 1 semaine. arrêtez l'utilisation et consultez un médecin si vous avez: saignements rectaux ou aucun mouvement d'entrailles après le lavement a été donné. Ces symptômes peuvent indiquer un problème grave. Tenir hors de portée des enfants.  En cas d'ingestion, obtenir de l'aide médicale ou contacter un centre antipoison immédiatement.
Ne pas utiliser chez les patients avec mégacôlon, obstruction gastro-intestinale, Imperforation anale ou insuffisance cardiaque congestive.  Utiliser avec prudence chez les patients atteints d'insuffisance rénale, des troubles électrolytiques préexistants ou une colostomie, ou chez les patients sous diurétiques ou autres médicaments qui peuvent affecter les niveaux d'électrolyte. 
Ingrédients actifs : Phosphate monobasique de Sodium (19 g) (nettoyant laxatif salin/intestin), Phosphate dibasique de Sodium (nettoyant laxatif salin/intestin)
Ingrédients inactifs : Solution de chlorure de Benzalkonium, EDTA disodique, eau (purifiée)
Comment utiliser : retirer le protecteur orange de lavement Comfortip ® avant de l'insérer.  Avec une pression constante, introduire doucement dans l'anus avec un léger mouvement de côté à l'autre, avec la pointe dirigée vers le nombril. Ne forcez pas l'embout du lavement dans rectum, car cela peut causer des blessures.  Pressez la bouteille jusqu'à ce que presque tout le liquide ait disparu.  Il n'est pas nécessaire de vider la bouteille complètement, car il contient plus de liquide qu'il faut. Retirer Comfortip ® du rectum et maintenir la position jusqu'à ce que l'envie d'évacuer est forte (habituellement de 2 à 5 minutes)
Positions pour l'utilisation de ce lavement:
Sur le cote gauche:S'allonger sur le côté gauche avec le genou plié et les bras aux repos confortablement. 
Position genou-pectorale : se mettre à genoux, ensuite baisser la tête et la poitrine vers l'avant jusqu'à ce que le côté gauche du visage se repose sur la surface avec le bras gauche plié confortablement.
---