| | |
| --- | --- |
| | Votre panier est actuellement vide. |
COUPE FAIN NOCTURNE 60 CAPS
Nighttime Binge Control, Coupe Fain Nocturne va agir rapidement pour vous couper la faim mais surtout agir pendant la nuit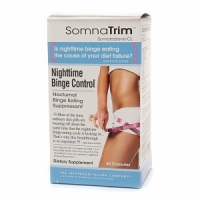 Agrandir l'image
Fournisseur : SomnaTrim
Description
Coupe-faim nocturnes
Composition: Yerba mate (feuilles) extrait, extrait de Guarana (graines), Damiana (Turnera diffusa var. aphrodisiaca) (feuilles)

Agent calmant: L-Theanine
Agent d'aide au sommeil: Mélatonine
"Most of the time, ordinary diet pills are wearing off about the same time that the nighttime binge-eating cycle is kicking in... That's why this breakthrough is so important."
Is nighttime binge eating the cause of your diet failure?
"La plupart des pilules de régime, s'estompent en même temps que le cycle de boulimie nocturne démarre.
 C'est pourquoi cette percée est si importante. » Hyperphagie nocturne est-elle la cause de votre rupture de régime alimentaire ?
Nouvelle formule interrompt le besoin nocturne de manger
Exemple :  
Vous venez de démarrer une nouvelle diète.  Vous avez pris une barre énergétique le matin.  Vous commandez une salade pour le déjeuner.  Et vous avez un morceau de poulet ou de poisson avec quelques légumes pour le dîner.  Vous faites bien.  La journée est terminée... et puis tout d'un coup, une heure ou deux après avoir terminé le dîner... ça commence.  Vous vous trouvez en face du frigo à la recherche de quelques restes, et avant que vous le sachiez, vous avez fini la dernière pinte (ou deux) de Haagen-Dazs.  Si cela vous ressemble, votre panne d'alimentation pourrait être le résultat de quelque chose que les experts appellent le « Cycle d'alimentation nocturne » (ou ce que nous, les gens ordinaires appellent « Nuit Binge Eating »).
Comme quelqu'un qui a lutté avec boulimie nocturne le sait, le problème est bien réel... et très commun.  Certains experts estiment le nombre de mangeurs d'hyperphagie nocturne dans les millions dans les seuls États-Unis. Nous savons tous que mangeurs de l'hyperphagie nocturne peuvent tenir toute la journée et même jusqu'au dîner, avec  leur régime alimentaire sain.  Et puis, pour des raisons qui ne sont pas claires, quelque chose se passe pendant la nuit.  Peut-être que c'est l'ennui.  C'est peut-être le stress.  C'est peut-être un manque de sommeil.  Ou alors, encore une fois, c'est peut-être juste dans notre ADN qui dit ce qu'il faut alimenter avant le « jeûne » toute la nuit (c'est pourquoi le petit déjeuner est appelé déjeu-, Saviez-vous que?)  Quelle que soit les raisons, boulimie nocturne est un sérieux problème si vous essayez de perdre du poids.  -Des chercheurs et des personnes partout dans le monde - commencent à comprendre que le tueur numéro un régime peut-être pas sucre ou Fast-Food ou glucides, mais « Nuit Binge Eating. »
Boulimie nocturne peut être cause de défaillance d'alimentation courante ! Pourquoi la « nuit »  est tel un tueur de régime... et pourquoi les pilules amaigrissantes ordinaire ont ignoré le problème pour si longtemps ?  La réponse est assez simple.  Pratiquement chaque pilule de régime existant est destiné à prendre 2 ou 3 fois par jour, généralement avant les repas, et c'est pourquoi ils se dissipent environ en même temps que le cycle de boulimie nocturne démarre.  (Sans parler du fait que beaucoup contienne des niveaux élevés de stimulants... pas exactement la meilleure solution si vous voulez trouver le sommeil.) « Ce que les gens ont besoin de savoir, c'est que la quantité de calories consommées par le mangeur typique tard dans la nuit peut dépasser la quantité consommée tout au long de la journée, », explique Amy Heaton, Ph.d.  "C'est pourquoi développer un composé de perte de poids spécialement conçu avec des ingrédients qui auraient dû être divulgués pour limiter la consommation de nourriture ad libitum ('à son plaisir »), réduire l'anxiété (qui est si souvent liée à une boulimie nocturne) et aussi pour aider les utilisateurs.
Farine de riz, gélatine, dioxyde de titane, FD & C rouge 3, FD & C Red 40, FD & C bleu 1
Posologie :
Prendre Deux capsules avec un grand verre d'eau 1 à 2 heures après le dîner.  (Vous pouvez régler le temps selon votre propre personnel "nocturne boulimie cycle. »)  Utiliser en conjonction avec n'importe quel programme de régime et l'exercice raisonnable.  Conserver à température ambiante : 15° à 30° C
---