| | |
| --- | --- |
| | Votre panier est actuellement vide. |
Ripped Fuel Sans Ephedra Twinlab 200 caps
Acheter le Ripped Fuel Sans Ephedra Twinlab 200 caps Nouvelle generation pour bruler vos graisses en profondeur et faire une diete rapide en douceur .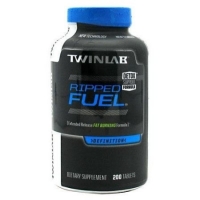 Agrandir l'image
Fournisseur : Twin Lab
Description
Ripped Fuel de Twinlab Le célèbre brûleur de graisses revient avec une nouvelle formule cliniquement plus forte et  plus puissante que jamais ! et en 200 capsules 

Ripped Fuel est une formule high-tech qui aide à réduire les graisses corporelles et préserver la masse musculaire maigre. Ripped Fuel donne une énergie intense.
Ripped Fuel stimule la combustion des graisses et agit en deux phases puissantes pour une action complète.

Phase 1 : Complexe Thermo Burn
Ce complexe carbonise les graisses le plus tenaces, augmente l'énergie afin de réaliser des séances de sport intenses.
Ce comple contient du thé vert, un antioxydant qui augmente les dépenses énergétiques en brûlant en priorité les graisses. Le thé vert contient de l'EGCG, un polyphénol coupe-faim qui accélère l'élimination des matières grasse tout en bloquant la synthèse de la graisse. Le thé vert est un excellent diurétique.
Le guarana est un énergisant et un excellent coupe-faim qui favorise la combustion des graisses à des fins énergétiques.
Quant au yerba mate, c'est un excellent énergisant qui permet d'être pleine forme. Il augmente la dépense calorique lors de l'activité physique.

Phase 2 : Matrice Extended Release
Il s'agit d'une matrice à libération prolongée.
Elle contient du poivre de cayenne qui augmente le métabolisme grâce à sa fonction thermogène. Il favorise la circulation sanguine et la digestion. Le poivre de cayenne est micro-encapsulé pour la libération lente pour aider à garder votre métabolisme en activité maximale pour brûler les graisses.
Cette matrice à libération prolongée Ripped Fuel contient également le picolinate de chrome qui aide à brûler les graisses tout en préservant la masse musculaire maigre. Cet oligo-élément essentiel favorise la régulation du métabolisme des sucres et des graisses.
Enfin Ripped Fuel a l'avantage de contenir un des petits secrets de la perte de poids: du chardon de lait à des niveaux testés cliniquement.
La combustion des graisses peut libérer les graisses stockées toxines ("pollution cellulaire") qui peuvent endommager les cellules saines dans votre corps. Le chardon de lait lutte contre cette "pollution cellulaire " et soutient la fonction du foie. Il aide le processus de désintoxication naturelle du corps nécessaire lors de la perte de poids.
Conseils d'utilisation :
Prendre 2 comprimés de Ripped Fuel 3 fois par jour, 30-60 minutes avant les repas. Consommer chaque dose de Ripped Fuel avec 3 à 4 heures d'intervalle. Pour plus d'énergie intense, prendre 3 comprimés, 2 fois par jour, 30-60 minutes avant les repas. Ne pas dépasser 6 comprimés par jour.
Informations allergènes : Elaboré dans une usine qui traite également des ingrédients à base de lait, de soja, d'œufs, d'arbres à noix, d'arachide, de blé, de poisson et de coquillage.

Précautions :
Ce produit est un complément alimentaire. Ne peut être utilisé comme substitut d'un régime alimentaire varié.
Ce produit contient de la caféine. Ne pas combiner avec d'autres stimulants et ne pas prendre le soir.
Tenir hors de portée des enfants. Respecter les doses journalières recommandées.
Ne pas donner aux enfants de moins de 18 ans, aux femmes enceintes ou allaitant, aux personnes sous trraitement médical.
Ne contient pas d'éphédrine ni d'éphédra.
---
Erreur: Failed to retrieve the Currency Converter XML document.