| | |
| --- | --- |
| | Votre panier est actuellement vide. |
ERGO SHRED - THERMOGENIQUE INTENSIF 180 CAPS
ErgoShred - est un bruleur thermogenique intensif qui supprime l'appetit et coupe la faim avec une augmentation de votre endurance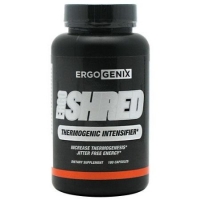 Agrandir l'image
Fournisseur : Ergogenix
Description
ERGO SHRED - THERMOGENIQUE INTENSIF 180 CAPS
- Favorise la perte de graisse
• Supprime l'appétit
• Augmente l'endurance
ErgoShred ™ est la dernière offre ErgoGenix dans la catégorie de la combustion des graisses. Grâce à sa conception innovante et  tranchante, ErgoShred ne ressemble à aucun autre produit sur le marché, ce qui en fait un produit révolutionnaire dans la catégorie sursaturé de combustion des graisses. ErgoShred favorisera la perte de graisse, supprimer l'appétit, augmenter l'endurance, et va fournir l'énergie durable, le tout sans affecter votre performance athlétique.
Grâce à la combinaison de quercétine, la caféine, Nméthyltyramine (NMT), et Zingerone à des doses efficaces, ErgoShred exploite de nombreuses voies métaboliques différentes en synergie. La caféine peut induire la lipolyse, augmenter les performances en fatigue retarder, et d'augmenter le seuil de douleur. La quercétine peut stimuler le métabolisme, inhiber la production de cortisol, stimuler l'endurance, et potentialiser la perte de graisse en augmentant le taux de lipolyse induite par la caféine. Zingerone, comme la quercétine, agit également à accélérer le rythme de la lipolyse induite par la caféine.
En plus du taux de lipolyse induite par la caféine étant augmenté par la quercétine et Zingerone, NMT et Zingerone fois favoriser la perte de graisse en empêchant le stockage des graisses, tout en permettant à l'énergie propre et sans anxiété.
Un autre ingrédient dans ErgoShred, HCl B-phényléthylamine, fournit également l'énergie propre, sans jitter, et a été associée à une élévation de l'humeur, vous donnant de longue durée, se sentir bien au point.
ErgoShred contient également la carnitine estérifié rare propionyl-L-carnitine (PLCAR). L'inclusion de PLCAR dans ErgoShred peut améliorer la fonction cardiaque en protégeant les tissus contre le stress oxydatif, d'améliorer la capacité de travail anaérobie, et peut réduire de poids corporel par stimulation de la voie palmitoyltransferase carnitine.
ErgoShred contient aussi un mélange breveté de Capsimax ® et Bioperine ®. Capsimax contient un extrait de capsicum qui ne causent pas les sentiments des gens de brûlures d'estomac sont venus à associer avec d'autres produits de poivron, tout en offrant un niveau optimal de capsaicinoids, tandis que Bioperine d'autre part améliore l'absorption des nutriments, conduisant à une augmentation de l'absorption des ingrédients dans ErgoShred. Non seulement ErgoShred conduire à la perte de graisse, mais grâce à l'incorporation de Capsimax dans sa formule, il vous permettra de brûler plus de calories pendant et après l'exercice, supprimant votre appétit, augmenter la thermogenèse en augmentant les dépenses d'énergie et d'améliorer la composition corporelle en abaissant les niveaux de graisse corporelle. Capsimax conduira également à une augmentation de la consommation d'oxygène tout en réduisant les niveaux de perception de l'effort, de sorte que vous ne travailles pas plus, mais vous vous sentez aussi moins fatigué.
Pour 2 capsules
 

 

 

Amount




Per Serving

% Daily
Value*

 

Calcium (as calcium carbonate and tricalcium phosphate)

230 

mg

23%   

 

ErgoShred is a Proprietary Blend Of:Propionyl-L-Carnitine, quercetin (sophora joponica)(flower), b-phenylethylamine HCI, caffeine anhydrous, n-methyltyramine HCI, Capsimax® (capsicum annum fruit extract), zingerone, BioPerine® (black pepper extract)(standardized to 95% piperine)(piper nigrum)(fruit).

640 

mg

*%   

 

Caffeine (total amount per serving)

100 

mg

*%
 Ingredients: Rice flour, gelatin, calcium phosphate tri-basic, silicon dioxide, hydrous magnesium silicate, vegetable magnesium stearate, artificial color (titanium dioxide, yellow #6, red #3).
Posologie : Prendre 2 a 4 capsules 1 a 2 fois par jour , ne pas prendre plus de capsules par jour 
Warning: Consult with your physician before using this product, particularly if you are taking prescription medications. Do not use this product if you are under the age of 18 or are pregnant or nursing. Do not use this product if you are at risk for or are being treated for high blood pressure, heart, kidney, thyroid or psychiatric disease, anxiety, depression, seizure disorders or stroke. Do not combine this product with any other thermogenic or stimulant product. The recommended serving of this product contains about as much caffeine as a cup of coffee and individuals with caffeine sensitivity should consider the amount to take. Everyone's metabolism is different and may respond differently to the variety and amount of each ingredient in this product. Do not exceed recommended serving. If you experience any adverse reaction to this product, immediately discontinue use and contact your physician. Do not take near bedtime as it may cause sleeplessness. KEEP OUT OF REACH OF CHILDREN.
---