| | |
| --- | --- |
| | Votre panier est actuellement vide. |
DIUREX 80 CAPS DIURETIC ET RETENTION D'EAU
Diurex Water Capsules,80 CAPS Este le diuretique le plus pus utilise aux USA, pour un prix tellement doux de 19.99 euros .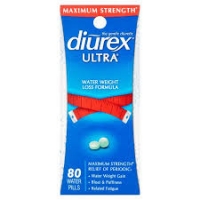 Agrandir l'image
Fournisseur : Diurex
Description
DIUREX VA AGIR CONTRE LA RETENTION D'EAU ET VOUS DEGONFLER
Diurex est efficace contre la rétention d'eau, les gonflements, les ballonnements, ainsi que la fatigue associée aux troubles menstruels et prémenstruels. Les ingrédients actifs de Diurex Ultra ont été reconnus sains, efficaces et sans danger lorsque pris selon les recommandations d'usage.
Utilisation : Prendre 1 à 2 comprimés toutes les 3 à 4 heures tant que les symptômes persistent. Boire de 6 à 8 verres d'eau par jour.
Ingrédients : Caféine (50 mg par comprimé), Salycilate de Magnésium (162,5 mg par comprimé), Acacia, Carbonate de Calcium, Amidon de Maïs, Crospovidone, Phosphate de Dicalcium, Hypromellose, Stéarate de Magnésium, Maltodextrine, Cellulose de Microcristalline, Huile Minérale, Glycol Polyéthylène, Polysorbate, Gomme Laque, Silice, Glycolate d'Amidon de Sodium , Acide Stéarique, Talc, Dioxyde de Titanium, Triacétine.
Avertissement : Ne doit pas être utilisé par des personnes de moins de 18 ans. Lorsque vous utilisez ce produit, limitez l'usage de boissons, d'aliments et de médicaments contenant de la caféine, car un excès de caféine peut induire nervosité, irritabilité, insomnie, palpitations cardiaques. La dose recommandée de ce produit contient environ autant de caféine que 2 tasses de café. Si vous êtes enceinte ou allaitante, consultez un professionnel de santé avant usage. Ne pas utiliser ce produit si vous avez déjà fait l'objet d'une réaction allergique à un analgésique. Si une réaction allergique survient, cessez l'utilisation et consultez un médecin immédiatement. Ce produit contient un anti-inflammatoire non-stéroïde, qui peut causer des saignements chez les personnes souffrant d'ulcère d'estomac. Consultez un professionnel de la santé avant usage si vous prenez des médicaments contenant des anti-inflammatoires non-stéroïdes ou si vous suivez un traitement pour le diabète, la goutte ou l'arthrite. Garder hors de portée des enfants.
---
Erreur: Failed to retrieve the Currency Converter XML document.