| | |
| --- | --- |
| | Votre panier est actuellement vide. |
REDLINE MICROBURST HARDCORE 100 CAPS
Redline Ultra Hardcore par VPX - Bruleur de graisse tres puissant et booster d'energie de la marque VPX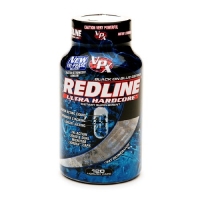 Agrandir l'image
Fournisseur : VPX
Description
Nouveau produit pour une combustion rapide des graisses!
Red Line VPX est un brûleur de graisse qui allie l'effet thermogénique et la production d'énergie. Une super Combinaison super efficace qui
Découvrez la nouveauté VPX: Redline ®. C'est le seul produit qui fait ressentir des frissons dans le corps. Par ces frissons, le corps brûle d'énormes quantités de masse graisseuse stockées en produisant de l'énergie pour maintenir le corps au chaud. 
Ce n'est pas tout! En plus de frissons, la combustion naturelle effectuée par votre corps sera augmentée et boostée. 
La combinaison Red Line de ces 2 mécanismes se traduit par une perte sans précédent des matières grasses!
Utilisation Red Line : Toujours commencer à utiliser REDLINE ® à 1 ou 2 capsules par jour pour évaluer votre tolérance!

Posologie Red Line
Ne dépassez jamais plus de six capsules par jour au total ou plus de trois casquettes en quatre heures. 
Comme un supplément diététique, prendre trois capsules le matin avant des exercices cardiovasculaires et / ou exercice de musculation. Pour éviter le catabolisme musculaire (ventilation) au cours d'une séance d'entraînement, toujours ingérer un certain type de protéines de haute qualité. 
Ne pas consommer REDLINE ® sur un estomac vide car cela pourrait causer des vomissements.
TRI-ACTION LIQUIDE & MICROTAB DUAL LIQRUSH ™ CAPS

Redline ® Ultra Hardcore innovation de livraison Tri-Action, liquide et Microtab que la biotechnologie exclusif de VPX. Tout d'abord, le liquide clair offre une action plus rapide submicroniques composés actifs dans votre corps en quelques secondes. Avec une vitesse de lame de processus de cisaillement élevé VPX réduit les particules actives à un poids de moins d'un micron. Ces avancées pharmacocinétique de phase liquide se traduire par ultra-rapide d'absorption. Après les actifs liquides sont libérés, les Microtabs spécialement conçus Noir contourner le très acides (pH bas) environnement de l'estomac, par conséquent, réduire au minimum la dégradation digestive. L'environnement de pH très alcalin de l'intestin déclencher les Microtabs noir d'éclater et d'aller travailler quelques minutes à inonder le corps avec de puissants facteurs de graisse d'incinération. Lorsque tous les brûleurs de graisse ne autres, Redline ® Ultra ™ Hardcore Microtabs Bleu libérer progressivement dans le système pour un maximum de trois heures, comme prouvé par des études de dissolution à l'état VPX de laboratoires de pointe! Redline Ultra Hardcore ® libère: «Le monde des composés plus avant-gardistes actifs infusé dans les plus branchés au monde et le système de prestation de bord Tri-Action!" En volume et en conception VPX a développé les innovations les plus avancées liquides d'incinération de graisses dans l'histoire du sport et de la nutrition de performance! Redline Ultra Hardcore est tellement avancée, pourtant, peuvent être facilement compris par le mantra marque déposée: une action plus rapide! Fort Stacking! Plus durable!
Mode d'utilisation d'Redline Ultra Hardcore: Comme un complément alimentaire, commencez toujours par l'utilisation de capsules Redline 1 à 2 Ultra Hardcore quotidiens pour évaluer votre tolérance. Prendre 1-2 capsules sur un estomac vide avant le petit déjeuner. Prendre 1 à 2 capsules supplémentaires sept heures plus tard sur un estomac vide, si désiré. Ne jamais dépasser plus de 4 gélules par jour au total à plus de 2 capsules en une seule dose. Ne pas utiliser le produit pendant plus de 8 semaines consécutives. Suivez chaque cycle de 8 semaines d'utilisation, avec une pause de 4 semaines.
Avertissements:
NE PAS UTILISER POUR DES PERSONNES DE MOINS DE 18 ANS. NE PAS UTILISER si enceinte ou allaitant. Consultez un médecin ou un professionnel de la santé avant d'utiliser ce produit si vous avez, ou avez des antécédents familiaux de maladie cardiaque, maladie de la thyroïde, le diabète, l'hypertension artérielle, la dépression ou d'autres troubles psychiatriques, le glaucome, difficulté à uriner, élargissement de la prostate ou trouble épileptique ou si vous utilisez un inhibiteur de la monoamine oxydase (IMAO) ou tout autre supplément diététique, médicament d'ordonnance, de drogues ou de l'éphédrine over-the-counter contenant, la pseudoéphédrine, la phénylpropanolamine (ou ingrédients trouvés dans certains allergie, d'asthme, de la toux ou de froid, et des produits de contrôle de poids). Ne pas dépasser la dose recommandée. Le dépassement de la dose recommandée peut causer des effets néfastes sur la santé. Cesser l'utilisation et appelez un médecin ou un professionnel de la santé immédiatement si vous éprouvez battement de cœur rapide, vertige, mal de tête grave, brièveté de souffle ou autres symptômes semblables. Les personnes qui sont sensibles aux effets de la caféine ou avez une condition médicale devraient consulter un professionnel de santé agréé avant de consommer ce produit. Ne pas utiliser ce produit si vous êtes plus de 15 kilos de trop. Le consommateur assume la responsabilité totale si ce produit est utilisé d'une manière incompatible avec les directives sur l'étiquette. Ne pas utiliser pour la réduction de poids. GARDER HORS DE LA PORTÉE DES ENFANTS. Ce produit est destiné à être utilisé par des personnes en bonne santé seulement. Ne pas utiliser ce produit si vous êtes enceinte ou allaitez ou avez une condition médicale.
GARDER HORS DE LA PORTÉE DES ENFANTS.
Trop de caféine peut causer la nervosité, l'irritabilité, l'insomnie, et de temps en temps, un rythme cardiaque rapide. Non recommandé pour les enfants de moins de 18 ans. Une portion de Redline Ultra Hardcore Fournit 290 mg de caféine, qui est inférieure à trois tasses de café.
* Ces déclarations n'ont pas été évaluées par la Food and Drug Administration. Ce produit n'est pas destiné à diagnostiquer, traiter, guérir ou prévenir une maladie quelconque.
132 Multi Stage Release Caps

 

Serving Size1Capsule

Servings Per Container132

 

Amount Per Serving

% Daily Value

 

Calories

3

 

Calories From Fat

3

 

Total Fat

0g

0%*

 

Fat Catabolizor™ & -3Potentiator

135mg

 

Caffeine Anhydrous

133mg

**

Trans-Resveratrol (Polygonum Cuspidatum) (Root)

 

**

3'-5'-CAMP (3'-5'-Cyclic Adenosine Monophosphate)

 

**

Toothed Clubmoss (Huperzia Serrata) (Leaves) [Std. To 1% Huperzine A]

 

**

Vinpocetine

 

**

N-Acetyl-L-Tyrosine

 

**

 

NorEpiphex™ A2-Andregenic-L Tri-Yohimbe Complex + M-MAOxidizor-L™

1,834mcg

 

Yohimbe (Coryanthe Yohimbe) (Bark) [Std. To Yohimbine HCL]

 

**

Yohimbe (Coryanthe Yohimbe) (Bark) [Std. To 11-Hydroxy Yohimbine]

 

**

Yohimbe (Coryanthe Yohimbe) (Bark) [Std. To Alpha Yohimbine HCL]

 

**

Barley (Hordeum Vulgare) (Bud) [Std. To Hordenine HCL]

 

**

Olive Leaf Extract (Olea Europaea) [Std. To Hydroxytyrosol]

 

**

 

* Percent Daily Values are based on a 2,000 calorie diet

** Daily Value not established
Other Ingredients:

Medium Chain Triglycerides, Lactose Anhydrous, Talc, Croscarmellose Sodium, Magnesium Stearate, Calcium Silicate, Purified Water, Gelatin, Titanium Dioxide, Polysorbate 80, Hypromellose, Polydextrose, Ethyl Cellulose, Ammonium Hydroxide, Polyethylene Glycol, Magnesium Silicate, Oleic Acid, Triacetin, FD&C Yellow #6, And FD&C Blue #2.

 

 

 

Allergen Warning: Manufactured In A Facility That Processes Milk, Soy, Tree Nuts, And Peanut.

 
---
Plus de catégories