| | |
| --- | --- |
| | Votre panier est actuellement vide. |
ALRI LIPO THERM 90 CAPS
Acheter Lipotherm une nouveaute Alri est un agent lipolytique nouvellement développé. Formulé pour la perte de poids extrême et une aide énergétique. Avec les composés révolutionnaires: framboise cétones, isopropylnorsynphrine et lipolytiques agrumes.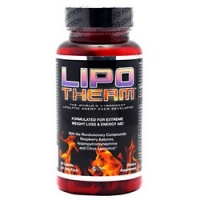 Agrandir l'image
Fournisseur : ALRI
Description
Lipotherm est le plus fort des agents lipolytiques jamais développé. Formulé pour la perte de poids extrême et une aide énergétique. Avec des composés révolutionnaires: framboise cétones .. une surprenante nouveaute sur le marche mondial . Maigrir en douceur et surtout sans efforts . 
Lire toute l'étiquette avant utilisation. Prendre un (1) comprimé le matin pour tester vos besoins personnels et de la tolérance pour les deux (2) premiers jours, puis prendre un à deux (1-2) comprimés le matin et un (1) comprimé dans l'après-midi dans votre situation personnelle besoins et de la tolérance permet. Ne pas prendre après 17 heures en tant que produits d'aide de l'énergie peut provoquer un sommeil agité. Ne pas dépasser la dose suggérée ou consommer plus de trois (3) comprimés par jour. Conserver dans un endroit frais et sec à l'abri de l'humidité et de la lumière du soleil. Toujours garder hermétiquement fermés.
Ne pas utiliser par des personnes de moins de 21 ans. Ne pas utiliser si enceinte ou allaitant. Ne pas utiliser si vous avez une condition médicale ou prenez des médicaments d'ordonnance. 
Consultez un médecin avant d'utiliser ce produit si vous souffrez d'une condition médicale préexistante, y compris, mais sans s'y limiter, l'hypertension, l'arythmie cardiaque, accident vasculaire cérébral, cardiaque, hépatique, rénale ou maladie de la thyroïde, le diabète, le glaucome, difficulté à uriner, élargissement de la prostate, convulsions, la dépression, la maladie psychiatrique ou de toute autre condition médicale. Ne pas utiliser ce produit si vous utilisez un inhibiteur de la monoamine oxydase (IMAO) ou tout autre supplément diététique, médicament d'ordonnance ou tout autre over-the-counter médicaments contenant l'éphédrine, la pseudoéphédrine ou de la phénylpropanolamine (ingrédients trouvés dans certains allergie, asthme, toux ou un rhume et le poids des produits de contrôle). Si vous éprouvez battement de cœur rapide, vertige, maux de tête, fièvre, nausées, essoufflement ou tout autre effet indésirable cesser immédiatement l'utilisation et consulter un médecin. Cesser d'utiliser 2 semaines avant la chirurgie. Les personnes qui consomment caféine ou autres stimulants avec ce produit ou qui sont sensibles à la caféine peuvent éprouver de graves effets néfastes sur la santé. L'utilisation incorrecte de ce produit peut être dangereuse pour la santé d'une personne. 
Buvez beaucoup d'eau lors de l'utilisation du produit. Ne pas dépasser la dose recommandée. Ne pas utiliser pendant plus de 5 des 7 jours consécutifs pour un maximum de 6 semaines avant la prise de 2 semaines de vacances. Ce produit peut contenir des substance (s) qui sont interdits par les divers sports et d'autres organisations. L'utilisation de ce produit peut déclencher un test de drogue a échoué de divers sports et d'autres autorités dirigeantes. Tenir hors de portée des enfants.
Nutritional Facts†
Serving Size: 1 Caplet
Servings Per Container: 90
Amount Per Serving
Serving
% DV
Advanced Thermogenic Proprietary Matrix

356.5 mg

 

Acacia rigidula extract (95% phenlehylamine alkaloids), raspberry ketones, methlyhexamine HCL, green tea 98 % extract (standardized for EGCG, theophylline, and polyphenols), caffeine anhydrous, theobromine, yohimbe extract (supplying yohimbine, 11-hydroxyyohimbine, and alpha-yohimbine), isopropylnorsyneohrine HCL, Capsimax Capsicum annum fruit extract.
Citrus Rx Proprietary Synergistic Lipolytic Matrix

175 mg

 

Citrus natsudaidai hayata extract, CitrusJunos Sieb. Ex tanaka extract, citrus limonium extract, citrus aurantium extract.
Other Ingredients: Dextrose, microcrystalline cellulose, sodium starch glycolate, dicalcium, phosphate, hydroxyproyl methylcellulose, Stearic acid, magnesium stearate, silica, FD&C Red #40.
*These statements have not been evaluated by the Food and Drug Administration. This product is not intended to diagnose, treat, cure or prevent any disease.
†Nutritions Facts are a simulation of the product "Nutrition Label". For the actual Nutrition Label please refer to the product packaging.
---