| | |
| --- | --- |
| | Votre panier est actuellement vide. |
KLERITEA THE REGULATEUR INTESTINAL 30 SACHETS
Acheter KLERITEA UN THE REGULATEUR INTESTINAL qui par unr prise quotidienne va soulager et reguler tout vos maux intestinaux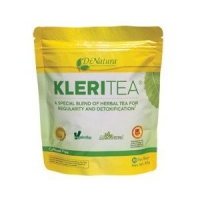 Agrandir l'image
Fournisseur : Dct Natura
Description
Dr Natura - KleriTea est une Tisane sans caféine - 30 Sachets
12 ingrédients soigneusement sélectionnés, y compris la feuille de séné, de menthe poivrée et de camomille. Ce thé au coucher est tres apaisant, c'est un laxatif naturel qui va encourager les intestins paresseux , tout en aidant au nettoyage du côlon, du foie et du sang.
KleriTea fait partie du programme Colonix advanced de nettoyage interne du colon .
Les 12 plantes médicinales dans KleriTea ont été conçus pour fonctionner en synergie avec les composantes du Programme Colonix pour aider à la désintoxication en stimulant le processus corporel élimination naturelle et la promotion de la régularité des selles.
KLERITEA ET SES ACTIONS 
Stimule en douceur les intestins
Complète un programme de nettoyage interne de pointe
Tous les ingrédients naturels et végétariens, Adans un sachet de thé Sans caféine .
KleriTea ne contient pas de:
Pourquoi devrais-je nettoyer mon colon ?
Vous vous brossez vos dents après les avoir utilisés pour manger. Vous lavez vos cheveux pour se débarrasser des huiles et résidus de produit. Vous passez beaucoup de temps et d'efforts en gardant vos extérieurs étincelantes de propreté. Pensez à un nettoyage comme «nettoyage de printemps» pour votre corps, une manière de douceur et efficacement démarrer votre processus d'élimination naturelle. KleriTea aide en favorisant la régularité des selles.
Si vous envisagez un nettoyage pour la première fois ou si vous avez l'habitude nettoyer une fois par an, nous vous recommandons de vous engager dans une action complete de 90 jours !
Que les sachets de thé DrNatura sélectionnés pour KleriTea sont faites d'un mélange de fibres de bois et de légumes. Certains fabricants utilisent du chlore pour blanchir le papier utilisé pour les sacs, ce qui crée un résidu chimique dioxine. Les tests confirment que la dioxine ne peut être détecté dans KleriTea filtre en papier.
Ils croient en la puissance du corps à guérir et nourrir lui-même.
Ils croient en l'efficacité des herbes.
Ils croient qu'un élément tout naturel peut être tout aussi efficace qu'un composé chimique multisyllabiques.
Et ils croient en soutien à la clientèle à l'ancienne, où vous parlez à une personne réelle, si le Dr Natura est là pour vous, sept jours par semaine au cas où vous avez des questions.
POSOLOGIE
Steep 1 sachet de thé pendant 1-2 minutes.
Steep 2-6 minutes et prendre tous les deux jours ou moins fréquemment (seulement si nécessaire pour la régularité des selles).
Avertissements
Ce produit ne doit pas être utilisé par les femmes enceintes ou qui allaitent et aux enfants. Si vous avez des conditions ou des allergies qui nécessitent une attention médicale, vous shuld consulter votre médecin avant de prendre tout médicament ou supplément diététique. Ce produit contient du séné. Il est conçu pour le nettoyage périodique et à court terme. Utilisation à long terme continue n'est pas recommandée
INGREDIENTS 
Supplement Facts

Serving Size: 1 Cup (240mL) tea
Servings Per Container: 30

 

 

Amount Per Serving
%DV*

 

Calories

0

 

 

Calories from Fat

0

 

 

Total Fat

0 g

0%

 

   Saturated Fat

0 g

0%

 

   Trans Fat

0 g

 

 

Cholesterol

0 mg

0%

 

Sodium

0 mg

0%

 

Total Carbohydrate

0 mg

0%

 

   Dietary Fiber

0 g

 

 

   Sugars

0 g

 

 

Protein

0 g

 

 

*Percent Daily Values are based on a 2,000 calorie diet. Your diet values may be higher or lower depending on your calorie needs.
Other Ingredients: Senna Leaf, Buckthorn Bark, Fennel Seed, Chamomile Flower, Peppermint Leaf, Cinnamon Bark, Ginger Root, Milk Thistle Seed, Rose Hip Fruit, Uva Ursi Leaf, Passion Fruit, and Natural Citrus Flavor.
---