| | |
| --- | --- |
| | Votre panier est actuellement vide. |
HYDROXYCUT HARDCORE PRO SERIE 210 CAPS
Acheter HYDROXYCUT HARDCORE PRO SERIE 210 CAPS la version de 210 capsules pour un prix de 75.90 , le moins cher du marche . Bruulez vos fraisses et economisez sur la version de 210 caps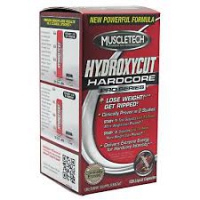 Agrandir l'image
Fournisseur : Muscle Tech
Description
 

 

 

 

 

 

 

Hydroxycut Hardcore Pro Series : la Version de 210 capsules Thermo Burn 

-Augmente la nopépinéphrine de plus de 92%
-Accélère le métabolisme
-Renforce la thermogenèse d'une façon incroyable 
-Capsules liquides à diffusion micro dispersion rapide

Augmente la nopépinéphrine de plus de 92%
Après avoir révisé une tierce étude portant sur certains ingrédients clés et publiée au journal de la pharmacologie clinique et thérapeutique, les chercheurs de l'équipe MuscleTech ont porté leur attention sur un ingrédient principal qui a montré sa capacité à générer une augmentation considérable de nopépinéphrine, une des hormones « brûleuses de graisse » les plus importantes dans notre corps. 
Dans cette étude, des échantillons de plasma sanguin ont été pris toutes les 30 minutes pendant une période de trois heures. Même si on peut noter une certaine variabilité, les sujets utilisant l'élément clé de Hydroxycut Hardcore Pro Series ont démontré une augmentation maximum des niveaux de nopépinéphrine de 92 pour cent.

Mécanisme d'action :
5 mécanismes d'activation de l'ingrédient clé de l'Hydroxycut ™ Hardcore Pro Series ont été démontrés au  niveau cellulaire.
1/ Un ingrédient clé dans L'Hydroxycut Hardcore Pro Series a été  conçu pour augmenter l'hormone clé dans le brûlage des graisses, la norépinéphrine (NE, ou noradrénaline) de 40%.Les recherches ont démontre que ce mécanisme est induit par un blocage des récepteurs de l'adénosine.
2/ La recherche a conclu qu'en  augmentant la quantité de Noradrénaline disponible
Pour se lier aux récepteurs bêta, la thermogenèse est active.
3/ Le facteur de l'Hydroxycut Hardcore Pro Series déclenchent la thermogenèse intracellulaire est du au blocage de l'enzyme phosphodiesterase.
4/ L'effet thermogenèse va entraîner la libération d'acides gras libres.
5/ La libération d'acides gras libres va  induire une baisse de la masse graisseuse.

Hydroxycut Hardcore Pro Series est le brûleur de graisse le plus utilisé par les sportifs 
Composition:
Quantité Par Portion: 
Hydroxycut® Hardcore Pro Series 1134mg
HydroxyPro™ 
-Alchemilla vulgaris extract (frauenmantle) (leaf)                      
-Olea europaea extract (wild olive) (leaf)                      
-Cuminum cyminum extract (komijn) (seed)                      
-Mentha longifolia extract (wild mint) (leaf)
Epidyne™ 
-L-Methionine                      
-L-Proline                      
-Caffeine anhydrous (137-trimethylxanthine)                      
-Supplying 200 mg of caffeine from Yerba maté Guarana and Caffeine anhydrous                      
-Oleic Acid                      
-L-Leucine                      
Lipidrol™
-L-Tyrosine ((2S)-2-Amino-3-(4-Hydroxyphenyl)Acide propanoique
-L-Leucine ((2S)-2-Amino-4-Acide Méthylpentanoique
-Acide Trans-Férulique ((E)-3-(4-Hydroxy-3-Méthoxyphenyl)prop-2-Acide Enoique
-L-Carnosine (2-(3 Aminopropanoylamino)-3-(1H-Imidazol-5-Yl) Acide Propanoique)
-Pyroglutamate de L-Arginine
-Acide Myristique (Acide Tétradécanoique)
Capsicore™
-Capsicum Annuum (Cayenne)(Fruit)
Autres Ingrédients:
Huile de sésame, triglycérides à chaîne moyenne, gélatine, FD&C rouge n°40, Polysorbate 80, extrait de paprika, silice, lécithine de soja, couleur caramel, FD&C Rouge n°3, encre (Povidone, propylène glycol, dioxyde de titane, alcool isopropylique, hydroxyde de sodium, FD&C Jaune n°5, gomme-laque, alcool butylique, alcool déshydraté).
POSOLOGIE :

Pour évaluer la tolérance individuelle, pendant les deux premiers jours, commencer par une (1) capsule, prise avec un verre d'eau deux (2) fois par jour, environ 30 minutes avant votre repas principal. Ne pas prendre après le dîner ou entre les repas. Pendant  trois jours et au-delà, suivre le tableau ci-dessous. Ne pas dépasser deux (2) comprimés dans une période de 4 heures et / ou six (6) comprimés dans une période de 24 heures. Ne prenez pas à moins de 5 heures avant le coucher.

Pour de meilleurs résultats, utilisez Hydroxycut Hardcore ™ Pro Series ™ pour les 8-12 semaines en association à un régime réduit en calories et un programme d'exercice régulier. Consommer 8-10 verres d'eau par jour. Lisez l'étiquette entière avant emploi et suivez les instructions.

Jours 1 et 2                       1 capsule par jour 2x
Jour 3 Jour 4                     2 et 2x capsules par jour
Jour 5 et au-delà              3x 2 capsules par jour

MISE EN GARDE

Avertissements: Ne pas destinés à être utilisés par des personnes de moins de 18 ans . Ne pas utiliser si enceinte ou allaitant. Cesser l'utilisation et consulter un médecin si vous ressentez des symptômes inhabituels. Consultez un médecin avant d'utiliser si vous avez été traité pour, un diagnostic ou avez des antécédents familiaux de toute condition médicale ou si vous utilisez toute la prescription ou de médicaments en vente libre (s), y compris des anticoagulants. Une portion (2 capsules) de ce produit contient jusqu'à autant de caféine que trois tasses de café (325 mg). Personnes sensibles à la caféine peuvent éprouver les symptômes suivants, y compris (mais sans s'y limiter), agitation, nervosité, tremblements, maux de tête, anxiété, palpitations, augmentation du rythme cardiaque, ou la difficulté à dormir. Ne pas combiner avec d'autres sources de caféine. Consultez un médecin avant de commencer un régime ou plan d'exercice. Ne pas dépasser la dose recommandée. Une mauvaise utilisation de ce produit n'améliorera pas les résultats et n'est pas conseillé. Employez seulement comme dirigé. Ne pas utiliser si l'emballage a été falsifié. Conserver dans un endroit frais et sec (60 ° F à 80 ° F). GARDER HORS DE LA PORTÉE DES ENFANTS.
---