| | |
| --- | --- |
| | Votre panier est actuellement vide. |
PREDATOR WHEY 95 PROTEINE 2000 GR CHOCOLAT
Acheter PREDATOR WHEY 95 PROTEINE. La plus complete et la la plus filtree des Whey sur le marche Europeen avec un gout Chocolat succulent. Un vrai delice de Pro POUR 63.90 .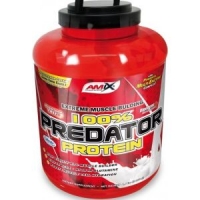 Agrandir l'image
Fournisseur : Amix England
Description
Nouveau !! La proteine Predator de AMIX ! Une marque peu connue en Europe qui vient d'Angleterre avec une reputation de Pro avec des gouts extraordinaires. en conditionnement de 2000 gr . Livraison de notre distributeur  francais directement . 
La proteine Predator est une protéine de Whey concentré de haute qualité spécialement conçue comme un complément pour régime hyperprotéiné  Cette formule de protéine est principalement conçue pour les athlètes, les culturistes et sportifs professionnels qui ont besoin d'un apport élevé en protéines sur une base quotidienne pour construire le tissu musculaire et augmenter la force et la régénération de soutien après d'épuisante séances d'entraînements.
Predator fournit tout ce qui est necessaire pour la croissance rapide de la masse musculaire, Predator favorise la régénération après l'entraînement et a un savoureux goût crémeux! Il contient de la whey ultrafiltré à basse température traitée et instantanée,un veritable concentré de protéine de lactosérum (WPC) ainsi qu'une teneur élevée en acides aminés provenant de protéines de bœuf.
La haute teneur en L-glutamine protège les muscles contre le catabolisme musculaire, favorise la reprise, renforce le système immunitaire, améliore l'hydratation des cellules musculaires et soutient la croissance de la production naturelle d'hormone. Le produit est édulcoré avec du sucralose Splenda ® et il est donc tout à fait aspartame et sans sucres reels ! Pour une meilleure utilisation de tous les éléments nutritifs importants, nous avons ajouté un digestif puissant et breveté multi-enzymatique ® Digezyme complexe.
Predator  contient élevé concentré de protéines de qualité (WPC)
Predator contient des multi-enzymatique complexe Digezyme ®
Predator soutient le renforcement du tissu musculaire maigre
Predator prend en charge une récupération plus rapide après l'entraînement
Predator  protège contre le catabolisme musculaire
Predator sucré avec Splenda ® Aspartame 
Disponible en 2000 gr 
Mélangez 1 cuillerée (30g) avec 180-250ml d'eau ou de lait faible en gras. Prendre 2-3 portions par jour.
Predator est vraiment une proteine de tres Haute Qualite Biologique a un prix moyen plus de 63.90 euros . 
Nutritional information:
INGREDIENTS 

Serving size: 1 scoop (30g)

Amount Per Serving

Calories: 114,2       Calories from Fat: 15,9

Total Fat

    Saturated Fat

Cholesterol

Sodium

Total Carbohydrate

    Sugars

Protein

DigeZyme® Multi-Enzyme Complex
* Percent Daily Values are based on a 2.000 calorie diet. Your Daily Values may be higher or lower, depending on your calorie needs. DigeZyme® is a registered trademark of Sabinsa Corporation, USA.    † Daily Value not established.
Typical Amino Acid Profile Per 100g of Protein

Alanine

Methionine*

Arginine

Phenylalanine*

L-Aspartic Acid

Proline

Cysteine/cystine

Serine

Glutamine **

Threonine*

Glycine

Tryptophan*

Histidine 

Tyrosine

Isoleucine*† 

Valine*†

Leucine*† 

Hydroxyproline

Lysine*

 

* Essential Amino Acids     † Branched Chain Amino Acids

** Glutamine values based on glutamic acid content
Ingredients: AmixTM Predator Premix (Ultrafiltered Low Temperature Processed Instantized Whey Protein Concentrate, Amino Acids Derived From Beef Protein), cocoa powder (only in chocolate flavour), maltodextrine, stabilizers xanthan and guar gum, soya lecithine, natural and naturally identical aroma, sweeteners: sucralose Splenda® and acesulfame-K, dye: (banana flavour - curcumin, strawberry and forest fruits flavour - beetroot extract, apple&cinnamon - tartrazine and patent blue V), Patented digestive enzyme DigeZyme® - multi-enzyme complex (Amylase, Lipase, Lactase,
Cellulase, Bacterial neutral protease)
---