| | |
| --- | --- |
| | Votre panier est actuellement vide. |
PACK MINCEUR TRIPLE ACTION MINCEUR 3 BOITES
Acheter Le Pack Minceur car celui ci a un atout de plus avec le fameux Hypershred de BSN Nutrition , 3 Boites pour Mincir ou Maigrir rapidement , Preparez l'ete avec les meilleurs produits de 2013.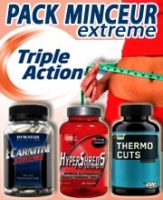 Agrandir l'image
Fournisseur : Optimum
Description
Minceur Extrême extrêmement complet a été conçu afin de couvrir tous les facteurs agissant sur la perte de poids, de masse grasse et d'eau. Ces 3 compléments utilisés simultanément permettent ainsi d'atteindre un résultat maximum sur 5 semaines , Comme le pack Drainage Minceur mais avec un plus avec le produit Hypershred  beaucoup plus puissant pour un drainage tout en douceur .
Programme Pack Minceur - Minceur Extrême comprend :

- L-Carnitine Xtreme 60 caps est une puissante formule lipotropique, c'est à dire que les agents actifs du L-Carnitine Xtreme ont la particularité de se fixer sur toutes les graisses de l'organisme et de les détruire instantanément en accélérant fortement leur transformation en énergie. La formule extrêmement dosée de L-Carnitine Xtreme augmente et accélère la fonte des graisses, diminue le cholestérol et améliore la texture de la peau
Ingredients Serving Size:1 capsule
** Percent Daily Value is based on a 2000 calorie diet. Your daily values may be higher or lower depending on your calorie needs.
† Daily Value not established.
-------------------------------------------------
- Thermocuts   60 caps est un accélérateur thermogénique très intense, son rôle dans le programme et de déstocker massivement tous les acides gras mis en réserve par l'organisme. La formule extrêmement complète ThermoCuts permet ainsi de brûler un maximum de calories mais également d'agir sur la satiété sans baisse de forme en coupant l'appétit et en augmentant fortement l'énergie physique.
Servings Per Container: 25
Chromium (as Chromium GTF Polynicotinate) 300.0 mcg *
Proprietary ThermoCuts Blend
Garcinia Cambogia Extract (Fruit) (65% HCA), NeOpuntia Extract (Opuntia Ficus-Indica) (Leaf), Caffeine Anhydrous, Phase 2 (Phaseolus Vulgaris) (Fruit), Green Tea Extract (Camellia Sinensis L.) (Leaf) (40% EGCG/22% Added Caffeine), Guarana Extract (Paullinia Cupana) (Seed) (22% Caffeine), Promilin (Trigonella Foenumgraecum) (Seed) (40% 4-Hydroxyisoleucine), Conjugated Linoleic Acid (CLA), L-Carnitine, Grapefruit Extract (Peel) (20% Naringin), White & Purple Willow Bark Extract (Salix Alba) (Bark) (15% Salicin), Bioperine (Piper Nigrum & Longum L.) (Fruit), Vanadyl Sulfate.
---------------------------------
HyperShred  90 caps
90 Capsules

 

Serving Size1Capsule

Servings Per Container90

 

Amount Per Serving

% DV

 

Thiamin (Vitamin B1)

1.3mg

87%

Riboflavin (Vitamin B2)

1.5mg

88%

Niacin

11mg

55%

Vitamin B6 (As Pyridoxine HCL)

1.8mg

90%

Vitamin B12 (As Cyanocobalamin)

4mcg

67%

Chromium

15mcg

13%

 

HYPER SHRED™ Proprietary Blend

460mg

 

Thermodynamic Interfusion*

 

**

Caffeine Anhydrous, Bitter Orange Extract (Citrus Aurantium) (30% Synephrine) (Advantra Z®), Red Pepper (Fruit) (2% Capsaicinoids) (Capsimax®), Black Pepper (Fruit) (95% Piperine) (Bioperine®)

 

Nootropic Stimulators*

 

**

Bacopa (Whole Plant) (20% Bacosides A&B), DL-Phenylalanine, Niacin, Toothed Club Moss (Aerial Parts) (1% Huperzine A), Pyridoxine HCL, Riboflavin, Thiamin Mononitrate, Cyanocobalamin

 

Insulino-Composite*

 

**

Banaba Leaf (18% Colosolic Acid) (GlucoHelp™), Chromium Chloride

 

† Daily Value (DV) not established
Other Ingredients:

Hypromellose, Di-Calcium Phosphate, Magnesium Stearate, Water, Silicon Dioxide, Stearic Acid, Titanium Dioxide, FD&C Red 40, Black Iron Oxide, And FD&C Blue 1.

 

 

 

Allergen Warning: Manufactured On Equipment Which Processes Products Containing Milk, Soybeans, Shellfish, And Fish Oil.

 

 

 

Phenylketonurics: Contains Phenylalanine.
Boire 2/3 litres d'eau par jour au minimum
Comme complement alimentaire , prenez 2 gelules de chaque par jour pendant environ 2/3 semaines , Prenez progressivement 1gelule au deux repas du matin et du midi pour s'habituer puis passer a deux gelules par jour de chaque si elles sont tolerees , N'oubliez pas de boire de l'eau et de faire de l'exercice .
Précautions:
Ce produit est un complément alimentaire. Ne peut être utilisé comme substitut d'un régime alimentaire varié. 
Tenir hors de portée des jeunes enfants. Ne pas dépasser la portion journalière recommandée.
---