| | |
| --- | --- |
| | Votre panier est actuellement vide. |
The (Tea) Herbes pour soulager les Regles 96 sachets
96 sachets de Yogi The (Tea) Herbes pour soulager les Regles 96 sachets , Enfin un the pour vous soulager mesdasmes , Une maniere naturelle de combattre vos crampes mensuelles ..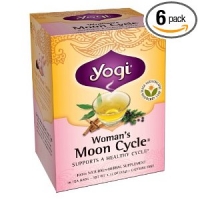 Agrandir l'image
Fournisseur : Yogi Teas
Description
Caractéristiques du produit
Pack de six, sachets de thé de 16 count (total de 96)
100% mélange de plantes aide à soulager les symptômes menstruels, le gingembre et la cannelle fournir de la chaleur et la saveur réconfortante
Certifié biologique par QAI, Inc; sans caféine
Entièrement naturel, sans conservateurs ou ingrédients artificiels
Certifié par un grand laboratoire
Informations importantes
Avertissement de Sécurité
Ces déclarations n'ont pas été évaluées par la FDA. Ce produit n'est pas destiné à diagnostiquer, traiter, guérir ou prévenir une maladie quelconque. Cycle de la Lune de la femme ne doit pas être utilisé pendant la grossesse ou l'allaitement tout.
ingrédients
Dong Quai extrait de racine (40 mg), extrait de baies Chaste Arbre (40 mg), extrait de baies de genièvre (16mg), racine de gingembre biologique, graines de fenouil bio, écorce de cannelle, fleur de camomille bio, feuille de framboise, de graines d'anis biologiques, persil biologique étamine, safran etc..
instructions
Porter l'eau à ébullition et laisser infuser 5 à 10 minutes. Pour un plus grand thé, utiliser 2 sachets de thé. Boire 1 à 3 tasses par jour. Pendant les jours prémenstruels, boire 4 à 5 tasses tout au long de la journée.
Mentions légales
L'emballage du produit réel et matériaux peuvent contenir des informations de plus en plus différente ce qui est montré sur notre site web. Nous vous recommandons de ne pas compter uniquement sur l'information présentée et que vous lisez toujours les étiquettes, les avertissements et instructions avant d'utiliser ou de consommer un produit. S'il vous plaît voir notre avertissement complète ci-dessous.
---