| | |
| --- | --- |
| | Votre panier est actuellement vide. |
TRIAZOLE 90 CAPS
Triazole représente une révolution pour l'industrie de la nutrition sportive. La formule sur la base de triazole est un puissant anti-oestrogène naturel qui agit en même temps de soutenir le foie et accroître la capacité anti-oxydante, si le corps! Attend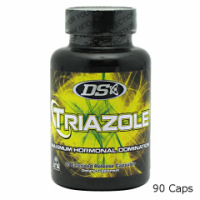 Agrandir l'image
Fournisseur : Driven Sports
Description
Triazole représente une révolution pour l'industrie de la nutrition sportive. La formule sur la base de triazole est un puissant anti-oestrogène naturel qui agit en même temps de soutenir le foie et accroître la capacité anti-oxydante, si le corps! Attendez-vous MAXIMUM DOMINATION HORMONAL!
NUTRITION FACTS
Serving Size 1 Capsule
Servings Per Container 90
 
 
 

Zinc (from Zinc Aspartate)

5 mg

33%

Triazole Proprietary Blend

750 mg

-

 
*percent Daily Values are based on a 2,000 calorie diet.
* These statements have not been evaluated by the Food and Drug Administration. This product is not intended to diagnose, treat, cure or prevent any disease.
Nutrition Facts are a simulation of the product "Nutrition Label".For the actual Nutrition Label refer to the product packaging.
Stéarate de magnésium, poudre de riz, gélatine.
Domination maximum hormonal. Triazole représente une révolution pour l'industrie de la nutrition sportive. Jamais auparavant un anti estrogène-été si puissant. La formule triazole est basé sur un puissant inhibiteur de l'aromatase naturel en plus d'être un foie solide et protecteur puissant anti-oxydant! Attendez maximale domination hormonal. Triazole Mélange breveté: LetroDex: pZole (extrait breveté de Glumerulate Brassaiopsis), Prunella vulgaris PE 20:1, l'aspartate de zinc. Tertrafene: Maca racine PE 20:1 (Lepidium Meyenil), la curcumine (95% Curcuma Longa Root Extract), CAP (extrait Propolis Proprietary), Bioperine.
En tant que complément alimentaire, prendre 3-4 capsules par jour répartis en 2 doses séparées. Ne pas dépasser 6 gélules par jour. Pour de meilleurs résultats, utilisez pendant 4 à 8 semaines. Ne pas dépasser 8 semaines d'utilisation continue.
---