| | |
| --- | --- |
| | Votre panier est actuellement vide. |
FORM-XT BOOSTER TESTO 60 CAPS
Form-X - Le Must des Nouveaux Boosters Testosterone, Un inhibiteur de l'aromatase qui montre dans des études préliminaires que celui ci peut etre plus fort que ATD et 6OXO.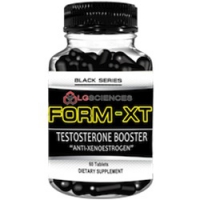 Agrandir l'image
Fournisseur : LG Sciences
Description
Form-X - Le Must des Nouveaux Boosters Testosterone
Un inhibiteur de l'aromatase qui montre dans des études préliminaires que celui ci peut etre  plus fort que ATD et 6OXO.
Form X controle l'oestrogene ce que ne faisait pas les anciens boosters de testosterone L. Preferz un moteur 6 cylindres a un moteur 4 cylindres .
Nos corps sont l'objet d'attaques, les produits chimiques comme les PCB, les parabens et le BPA limitent sérieusement la capacité pour les testicules de bien produire des androgènes comme la testostérone. Eh bien, l'assaut sur votre «masculinité» ne s'arrête pas là. Regardons une autre classe de toxiques pour la reproduction, à savoir les pesticides et les produits chimiques de nombreux qui sont systématiquement pulvérisées sur notre nourriture.
Un exemple d'un pesticide très commun utilisé dans l'agriculture est le mancozèbe, qui est utilisé pour supprimer la formation de champignons et autres parasites. Il peut perturber vos hormones thyroïdiennes ainsi que de réduire la capacité de votre corps à faire des progressions de masse . Mancozèbe testostérone est largement utilisé aux États-Unis et pourrait être un autre facteur expliquant pourquoi vous natteignez pas votre meilleur ..
D'autres produits chimiques tels que l'octylphénol, un surfactant utilisé dans les plastiques et procédés de fabrication, d'autres peuvent aussi réduire la testostérone. Donc, en plus de la BPA qui nous avons exposé dernier article, vous avez d'autres sources potentielles des perturbateurs androgènes de boire dans des récipients en plastique. Le chauffage de ces conteneurs semble rendre l'absorption des produits chimiques beaucoup plus actifs, ce qui signifie que si vous chauffez votre poulet et le riz dans un bac en plastique sympa, vous avez trouvé un souffle malsain de perturbateurs endocriniens.
Form-X est le stimulateur de masse le plus intense de la planète pour les gars qui s'exercent dur et a bien manger. Il agit en stimulant le corps à produire la testostérone naturelle plus de trois manières! Tout d'abord, il utilise des mécanismes de contrôle standards d'oestrogène comme un inhibiteur de l'aromatase démontré dans des études préliminaires d'être aussi plus puissant que le DAE. Il bloque également les œstrogènes au niveau du récepteur avec une herbe naturelle démontré dans des études préliminaires pour être aussi forte que Nolvadex. Ces deux font la combinaison la plus puissante jamais pour bloquer l'oestrogène.
Deuxièmement, nous utilisons des co-facteurs comme les extraits de gingembre spéciaux qui montrent dans des études préliminaires pour stimuler les testicules pour produire plus de testostérone à partir des matières premières essentielles. En outre, nous avons ajouté à D-acide aspartique, ce qui nous permet de théoriser le gingembre pour produire plus de testostérone au niveau des testicules, ce qui rend ce que nous ressentons sont les cofacteurs nutritionnels les plus avancées pour augmenter les niveaux de testostérone! Bien sûr, vous devez avoir une bonne alimentation et l'exercice pour obtenir des résultats à partir de n'importe quel supplément et ceux-ci sont la véritable clé de la remise en forme.
Ne prenez plus des boosters non efficaces ! 
Nutrition Facts †

Serving Size 1 Capsule




Servings Per Container 90

 

Amount Per Serving

 

 

Serving

% DV

Testicular Engine

 

-

 

D-Aspartic Acid

500 mg

-

 

Proprietary Blend

145 mg

-

 

Anti-Aromatase

10 mg

-

 

SERM

30 mg

-

 

 

Proprietary Blends

 

Proprietary Blend

Ginger 10:1 Extract (root), Quercetin, Piperine

Anti-Aromatase

2-Phenyl-benzo(h)chromen-4-one

SERM

Phellodendron Amurensis Extract (bark)

 

 

*percent Daily Values are based on a 2,000 calorie diet.

 

 

Ingredients: May contain one or more of the following inert ingredients: DiCalcium Phosphate Dihydrate, Magnesium Stearate, Gelatin, FD&C Red Dye #40, FD&C Blue Dye #1, Titanium Dioxide, Croscarmellose Sodium, Sodium Starch Glycolate.

*These statements have not been evaluated by the Food and Drug Administration. This product is not intended to diagnose, treat, cure or prevent any disease.

†Nutritions Facts are a simulation of the product "Nutrition Label". For the actual Nutrition Label please refer to the product packaging.
Comme un complément alimentaire prendre 2-6 capsules par jour répartis en deux doses séparées. Pour de meilleurs résultats, utilisez pendant 4 à 8 semaines. Ne pas dépasser 8 semaines d'utilisation continue. Toujours consulter un médecin avant d'utiliser un supplément diététique. Cesser 2 semaines avant la chirurgie. Ne pas dépasser la dose quotidienne recommandée.
---