| | |
| --- | --- |
| | Votre panier est actuellement vide. |
BLUE GENE 150 CAPS STIMULATEUR HORMONAL
Ble Gene 150 caps a ete Conçu afin d'aider les athlètes sérieux à optimiser la biogénèse mitochondrial, les ratios d'hormones et à améliorer le taux d'oxygène dans les cellules sanguines pendant les entrainements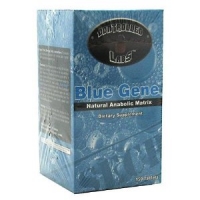 Agrandir l'image
Fournisseur : Controled Labs
Description
Conçu afin d'aider les athlètes sérieux à optimiser la biogénèse mitochondrial, les ratios d'hormones et à améliorer le taux d'oxygène dans les cellules sanguines pendant les entrainements tout comme la récupération post entrainement, cette formule exempte de stimulants améliorera votre endurance, votre puissance, et votre récupération. Pas d'hormones signifie pas de dépression, pas de thérapie post - cycle ou tout autre risques associés à l'ingestion exogène d'hormones.
Atouts clés :
Formule à diffusion contrôlée
Améliore l'endurance et la vigueur.
Puissance et performance naturelle et légale !
Optimise les niveaux d'hormones naturels et la récupération. Le Cissus est un anti-cortisol naturel qui a éclairé l'industrie de la supplémentation. Alors que nous nécessitons d'encore plus de recherche en ce qui concerne le mécanisme exact de l'effet anti catabolique, nous savons à l'heure actuelle que les phytoconstituents sont actifs et efficaces et qu'ils améliorent la cicatrisation des tendons et des ligaments (qui ont une fonction primordiale dans la force et la forme en haltérophilie). Agissant en tant que véritable antagoniste naturel au glucocorticoïde, le Cissus peut également avoir des propriétés anti inflammatoires et analgésiques.
La carnitine a été ajoutée à la formule pour ces nombreux bénéfices notamment sur la récupération pour l'entraînement intense et sur la réduction des DOMS. Vous aurez ainsi la capacité de vous entrainez plus souvent et plus longtemps. Les utilisateurs ont reporté une amélioration de l'énergie, de la vigueur, une baisse des niveaux de cholestérol.
Un autre mécanisme permet à la carnitine de développer une hormone naturelle à 100% pendant les entrainement incluant des facteurs de croissance similaires à l'insuline.
Les extraits de carao et catuaba agissent en synergie avec d' autres ingrédients de façon à aider vos muscles à recevoir plus d'oxygène améliorant ainsi la performance et la force. En bonus, plusieurs utilisateurs ont reporté une augmentation notable de la libido.
Quercetin et Ginkgo Biloba (utilisés depuis des siècles dans la médecine traditionnelle chinoise) apportent une amélioration de votre performance sans stimulant mais en avec plus d'oxygène pour vos muscles. Vous aurez enfin une alternative à tous ces produits pleins de stimulants. De plus, avec le temps vous verrez votre système immunitaire et votre système respiratoire améliorés grâce aux importants éléments anti-oxydants, anti-viraux et anti-allergènes . Le sodium de Bicarbonate agit comme tampon d'hydrogène, il aide à réduire la fatigue pendant les entrainements et améliore la récupération entre les entrainements. Expérimentez une endurance et une vigueur sans égale !!
Le lcariin (extrait de semence de raisin, Extrait de Griffonia Simplicifolia, Apigenin, Luteolin et Niacin) travaille en synergie avec les autres éléments afin de vous aider à améliorer la circulation sanguine , l'augmentation du niveaux d'hormones et les niveaux du testostérone tout en gardant le niveau d'estrogène sous contrôle. La formule aide également à contrôler les niveaux de cholestérol. (Le cholestérol est l'élément de base de la testostérone).
Entrainez vous plus intensément et récupérez sans problèmes avec Blue GENE 150 comprimés

Information nutritionnelle

Taille de portion 5 comprimés

Doses par boite 30

 

Quantité par dose % de valeur journalière

Niacine (NIacimide)

50mg

250%

Sodium (Sodium Bicarbonate)

41mg

2%

Blue C Complex

3750

mg

Blue Sky Complex

2200mg

**
L-Carnitine (1800mg) Cissus Quadrangularis (20% Extract), Carao Extract (Cassia Grandis), Catuaba 4:1 Extract (Trichilia Catigua) et Propionyl-L-Carnitine (200mg)
Quercetin, Ginkgo Biloba (Extrait Ginkgo Flavone Glycosides et Terpenes), Semence de raisin (Extrait de 95% OPC), Epimedium Sagittatum (Extrait 50% Lcariin), Coenzyme Q10 (Ubiquinone), Griffonia Simplicifolia, Apigenin (98% Extrait) et Perilla Frutescens (Extrait 23% Luteolin)
* Pourcentage de valeur journalière basée sur un régime de 2,000 calories
** Valeur journalière non établie
Autres Ingrédients
Maltodextrine, stéarate de magnésium, colorant artificiel
Conseil d'utilisation : pour tester votre tolérance, prendre 1 comprimé 60 minutes avant l'entraînement. Prendre 5 comprimés une fois par jour, 60 minutes avant l'entraînement et à n'importe quel moment de la journée les jours de repos. Après deux mois, faire une pause de 2 semaines. Boire 2L par jour et avoir un régime hautement protéiné / d'hydrate de carbone modéré.
Initial (first serving only) instructions : to assess your individual tolerance to the formula, take 1 tablet 60 minutes before working out. Directions : take 5 tablets, once per day, 60 minutes before your workout and anytime on non-workout days. After every 2 bottles (2 months), cycle off for 2 weeks before reintroducing this supplement back into your daily routine. For best results, Blue Gene should be used in combination with other Controlled Labs products, at least 1-2 gallons of water per day, and a high protein / moderate carbohydrate diet.
Ne pas donner aux enfants de moins de 18ans, aux femmes enceintes ou allaitant, aux personnes sous traitement médical.
Mettre hors de la portée des enfants.
Complément alimentaire. Ne constitue pas un substitut d'un régime alimentaire varié.
Respecter les dosages recommandés.
---