| | |
| --- | --- |
| | Votre panier est actuellement vide. |
BLACK HOLE , AUGMENTER VOTRE APPETIT
Black Hole ,Formule d'optimisation de l'appétit,Manger Plus: c'est ce que tous vos collègues de la salle vous disent de faire. Si vous voulez devenir massif, pas d'autre po...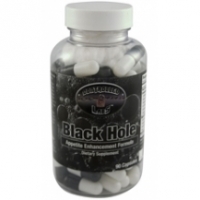 Agrandir l'image
Fournisseur : controlled labs
Description
Manger; c'est ce que tous vos collègues de la salle vous disent de faire. Si vous voulez devenir massif, pas d'autre porte de sortie. Vous devez manger et en forte quantité. La plupart des gens ont énormément de mal à consommer plusieurs milliers de calories par jour. Il y a une bonne raison à cela, votre corps utilise des hormones pour dire au cerveau que vous devez arrêter de manger et que vous avez avalé assez de calories pour l'instant. Vous pouvez essayer de vous gaver toujours plus mais vous finirez par vous rendre malade. A nouveau, ces hormones essaient de vous stopper physiquement à ce niveau. Elles agissent chez la plupart des personnes pour leur plus grand bien: éviter l'obésité. Cependant, si vous mangez sainement et que vous utilisez toutes ces calories, cela ne va pas vous aider non plus, que ce soit sur le plan de la forme ou de la masse. Que feriez vous s'il existait un moyen de stopper efficacement ces hormones et de les empêcher de faire leur travail et de vous rapprocher de vos rêves en termes de masse sèche de qualité ? C'est aujourd'hui possible. Black Hole de Controlled Labs utilise les alkylamides naturelles pour tromper le cerveau en lui faisant croire que vous n'avez pas assez absorbé de calories et qu'il vous en faut plus. Ca vous paraît intéressant ? (VOUS NE SEREZ PAS CONTROLE POSITIF EN CONSOMMANT CE PRODUIT) Alors lisez:
Eléments clés de Black Hole 
Absorption rapide/Action rapide
Mangez plus que vous ne l'avez jamais fait
Aide indirecte à la prise de masse sèche
Légal, sûr et efficace tant pour les hommes que les femmes
Stimule le métabolisme pour réduire les graisses corporelles
Aide digestive naturelle pour une augmentation des calories
Agit également comme un supplément anti-douleurs et renforce les ligaments
Ne produit pas de faux effets positifs aux tests anti-dopage
Humulus Lupulus (extrait à 8% de Lupulinum), extrait de Cayaponia Plauhiensis (Cayaponia Tayuya), extrait de Tynanthus Panurensis (Clavo Huasca), racine de gingembre, Glant Knotweed
Informations nutrionnelles
Quantité par service 3 capsules
Alkylamides cannabinomimétiques non-psychoactifs
Racine d'Echinacea Purpurea (Extrait de mélange précis de Dodeca-2E 4E, 8Z, 10Z/E alkylamides, acide tétraénoique d'isobutylamide ** et Dodeca-2E, 4E, acide diénoique isobutylamide**), Spilanthes Acmella (Extrait précis d'un mélange de Undeca-2E, 7Z, 9E acide triénoique d'isobutylamide**) 1000mg
*Les valeurs journalières (VJ) ne sont pas établies
Autres ingrédients : Maltodextrine, Gélatine, Stéarate de Magnésium et colorants artificiels
Complexe non-psychoactif Cannabinomimétique d'alkylamide
Tout le monde sait que la marijuana donne faim. Alors comment un athlète ou un bodybuilder peut-il augmenter son appétit sans avoir recours à des drogues illégales ? A vrai dire, c'est possible s'il existe un composant chimique physiquement similaire à la marijuana, le THC. Il pourrait alors activer les mêmes récepteurs et induire une augmentation de la faim. Cet élément biochimique existe sous la forme d'un groupe d'alkylamides qui agit comme un cannabinomimétique et immite les cannabinoides au niveau de la structure en se liant à leurs récepteurs, les CB1 et CB2 qui font partie d'un groupe de récepteurs lié à la protéine-G. Ces récepteurs sont localisés au niveau du cerveau et autour du corps. Ils ont en charge un grand nombre de fonctions, même s'ils ne sont pas limités à l'appétit (augmentation et restriction), au système immunitaire, aux réponses anti-inflammatoires et au plaisir euphorique.
L'étape suivante consistait à trouver des plantes contenant ces alkylamides qui imitent la structure des cannabinoides. Les deux plantes qui auguraient les meilleurs espoirs de trouver quelque chose étaient l' Echinacea Purpurea et le Spilanthes Acmella. Ces deux herbes contenaient différents alkylamides et des études cliniques récentes avaient prouvé qu'il y avait trois composés chimiques en particulier ayant une affinité à se lier aux récepteurs CB1 et CB2. Le Dodeca-2E,4E,8Z,10Z/E- tetraenoique acide, l'isobutylamide and dodeca-2E,4E-dienoique acide isobutylamide provenant de l' Echinacea herb et l'undeca-2E,7Z,9E-trienoique acide isobutylamide provenant de la Spilanthes, ce que vous retrouvez précisément dans Black Hole et qui peut être utilisé pour imiter les cannabinoides de la marijuana. Plus important encore, les cannabinoides endogènes du corps humain sont aussi présents dans le corps comme l'anandamide. Les études cliniques n'ont pas seulement prouvé qu'ils pouvaient imiter la structure chimique des substances naturelles du corps mais qu'ils pouvaient même se lier aux récepteurs pour une période de temps plus longue que les deux autres types. Cela veut dire que Black Hole vous aidera à produire des sensations de faim potentiellement plus importantes que tout ce que vous avez déjà expérimenté auparavant.
L'efficacité orale de ces alkylamides est également considéré comme extrêmement élevée chez les êtres humains, au point qu'ils se lient aux récepteurs sans être dégradés par les sucs gastriques et par le foie. Parce que les alkylamides se lient aux récepteurs CB1 et CB2, Black Hole peut aussi potentiellement vous aider avec à minimiser les réponses anti-inflammatoires et optimiser votre système immunitaire sur le long terme.
Maintenant que vous êtes affamé et que vous avez avalé des tonnes de protéines et d'hydrates de carbone de qualité, qu'est-ce que votre corps fera de ces calories ?
Complexe de digestion intégrale
Il ne serait pas dans votre intérêt de créer un appétit gigantesque sans que vous puissiez disposer de tous les ingrédients pour vous aider à digérer ces calories supplémentaires. C'est précisément ce que le complexe Digest-It-All de Black Hole va faire pour vous. Digest-It-All ne va pas seulement calmer votre système gastrointestinal mais il va aussi vous aider à produire plus de suc gastrique pour s'adapter à l'augmentation des calories et de la masse d'aliments supplémentaire. L'Humulus Lupulus, autrement connu sous le nom de houblon et qui est couramment utilisé dans la fabrication de la bière, va aider votre estomac à produire de plus grand volume de suc gastrique et vous aider à digérer. Pourquoi alors pousser de plus en plus lourd en salle pour vous retrouvez avec un ventre gonflé comme si vous aviez avalé des litres de bière ? Vous méritez le physique pour lequel vous avez travaillé si dur et nous avons donc ajouté le Clavo Huasca et le Cayaponia Tayuya à la formule. Ils vous aideront tous les deux au niveau de la digestion et de l'évacuation des gaz provenant des intestins. Le gingembre a aussi été ajouté pour vous aider à augmenter le volume de bile excrété depuis la vésicule biliaire et pour vous faire profiter de ses vertus antioxidantes. Le Giant Knotweedl a aussi été ajouté comme anti-oxidant. Ces deux composants antioxidatifs vous aiderons vous débarasser des radicaux libres résultant d'une plus grande consommation de nourriture.
Vous l'avez demandé, maintenant vous l'avez, le premier et le seul supplément stimulateur d'appétit du marché, Black Hole!!
Conseil d'utilisation : Pour évaluer votre tolérance à ce produit, prendre 1 gélule 45 minutes avant votre premier repas de la journée. Prendre 3 gélules avant votre premier repas de la journée ou bien si vous devez prendre votre voiture dans les quelques heures qui suivent la prise des gélules, sinon prenez 3 gélules à n'importe quel repas. Prenez au moins 5-10 grammes de graisse avec le repas que vous avez choisi pour la prise des gélules. Avertissements : les femmes enceintes ou les femmes qui cherchent qui cherchent à être enceinte ne doivent pas prendre ce produit. Ne pas prendre la voiture dans les deux heures qui suivent la prise de ce produit. Ne pas prendre ce produit si vous êtes sous traitement médical. Demandez l'avis de votre médecin avant de prendre ce produit.
Directions : To assess your individual tolerance to this supplement, take 1 capsule 45 minutes before your first meal of the day. Take 3 capsules before your first meal of the day or if you need to operate a motor vehicle within a few hours of this mean, take if before the meal that you will not need to operate a motor vehicle within a few hours of. Please consume at least 5-1 grams of fat with the meal that you choose to consume this with. Warnings : Pregnant women or women seeking to become pregnant should not take this product. Do not operate a motor vehicle within at least 2 hours of taking this product. you should not take this product if you have any prior medical condition, including diabetes or high blood pressure. Consult your doctor before taking.
Ne pas donner aux enfants de moins de 18ans, aux femmes enceintes ou allaitant, aux personnes sous traitement médical.
Mettre hors de la portée des enfants.
Complément alimentaire. Ne constitue pas un substitut d'un régime alimentaire varié.
Respecter les dosages recommandés.
---