| | |
| --- | --- |
| | Votre panier est actuellement vide. |

BrainSpeed Memoire 60 caps
BrainSpeed est un complément qui améliore la rapidité du processus de la pensée, memoire et de la concentration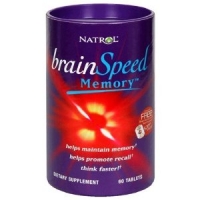 Agrandir l'image
Fournisseur : Natrol
Description
Natrol BrainSpeed Stimule la memoire et améliore la rapidité du processus de la pensée en ameliorant la concentration. I agit tres bien sur les personnes agees qui perdent aussi la memoire . 
Posologie : Prendre 2 capsules par jour  . 1 le matin et 1 le midi
Ingredients
Natrol - Brain Speed Memory - 60 Tablets
Supplement Facts

Serving Size: 1 Tablet

Amount Per Serving

%DV

Thiamin (from Thiamin Mononitrate)**

50 mg

3,333%

Niacin (as Niacinamide)**

125 mg

625%

Vitamimn B6 (from Pyridoxine Hydrochloride)

10 mg

500%

Folic Acid

1,000 mcg

250%

Vitamin B12 (as Cyanocobalamin)

500 mcg

8,333%

Pantothenic Acid
(from d-Calcium Pantothenate)**

125 mg

1,250%

Dimethylaminoethanol (DMAE) Bitartrate**

150 mg

*

Toothed Clubmoss Extract (Huperzia
serrata) (whole plant)
Huperzine A**

1.5 mg

75 mcg

*

*

Soy Phospholipids
Phosphatidylserine
83 mg
25 mg
*
*
*Daily Value (DV) Not Established.
**brainSpeed Blend contains Thiamin, Niacin, Pantothenic Acid, Dimethiylaminethanol (DMAE) Bitartrate and Huperzine A.
Other Ingredients: Cellulose, Mono and Diglycerides, Carob, Dibasic Calcium Phosphate, Cellulose Gum, Dextrose, Stearic Acid, Silica, Magnesium Stearate, Methylcellulose, Natural Food Glaze, Glycerin, Maltodextrin.
---