| | |
| --- | --- |
| | Votre panier est actuellement vide. |
Formule Memoire et Concentration 60 caps
Commander. Acheter, Vente, Achat une formule memoire efficace au Prix de 39.90.Avis,effets et commentaires sur nos forums .....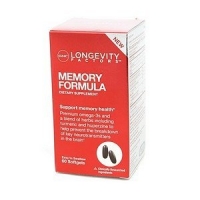 Agrandir l'image
Fournisseur : Longevity
Description
Formule memoire 
Memory Formula est un produit qui améliore la rapidité du processus de la pensée et la concentration. Particuliérement efficace pour remédier aux légers troubles de la mémoire associés à l'âge, Memory Formula
contribue aussi au maintien de la fonction cognitive.
Avantages de Memory Formula ?
Stimule la mémoire

Améliore la concentration

Améliore la fonction cognitive
Memory Formula, la solution aux problèmes
de trouble de la mémoire
Memory Formula a été spécialement élaboré pour favoriser
le développement de la mémoire, améliorer la concentration, le tonus mental,
et la vivacité d'esprit.
Memory Formula est particulièrement efficace pour augmenter la capacité de mémorisation et les facultés d'apprentissage chez les étudiants.
Memory Formula agit pour améliorer la fonction cognitive, la vivacité d'esprit, la vigilance, et la fraîcheur mentale et intellectuelle chez les seniors.
Indications pour Memory Formula
Moins de 12 ans.

Femmes enceintes ou qui allaitent



2 softgels






Amount Per Serving

% DV

Calories from Fat

10.00

Total Fat

1.00 g

2%

Cholesterol

5.00 mg

2%

Calories

10.00

EPA (Eicosapentaenoic Acid) (as Fish Body Oil)

200.00 mg

**

DHA (Docosahexaenoic Acid) (as Fish Body Oil)

150.00 mg

**

Ginkgo Biloba Leaf Extract

120.00 mg

**

Turmeric Root Extract (Curcuma longa)(95% Curcumin = 95mg)

100.00 mg

**

Memory Blend

50.00 mg

**

Huperzine A

100.00 mcg

**

** Daily Value (DV) not established

Autres Ingredients: Fish Body Oil, Gelatin, Glycerin, Carmel color, Soybean Oil, Titanium Dioxide (Natural Mineral Whitener) 

No Sugar, No Artificial Color, No Artificial Flavors, No Preservatives, Sodium Free, No Wheat, No Gluten, No Dairy, Yeast Free 

Warning: Do not exceed recommended intake. Consult your physician prior to using this product if you are pregnant, nursing, or taking any medications, or have high blood pressure or heart problems, or other medical condition. Discontinue use two weeks prior to surgery.
---