| | |
| --- | --- |
| | Votre panier est actuellement vide. |
QUALITINE CREATINE 300 GR
QUALITINE de Gaspari Nutrition n'utilise que de la créatine monohydrate d'une pureté au delà de 99,9% qui a ensuite été micronisée afin d'assurer sa dissolution instantanée dans l'eau ou tout autre liquide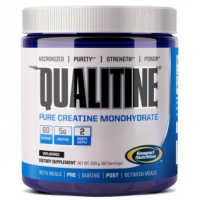 Agrandir l'image
Fournisseur : Gaspari Nutrition
Description
LES AVANTAGES ET LES EFFETS DE QUALITINE SONT:

• Booste votre prise de masse musculaire
• Booste votre force et puissance
• Accélère la récupération à l'effort
• Aide à l'amélioration des performances physiques
• Dissolution et Dispersion instantanée
QUALITINE de Gaspari Nutrition n'utilise que de la créatine monohydrate d'une pureté au delà de 99,9% qui a ensuite été micronisée afin d'assurer sa dissolution instantanée dans l'eau ou tout autre liquide. Qualitine est sans goût, sans odeur, cristalline et pure - La qualité de ce produit est évidente dès l'ouverture de votre pot et à chaque fois que vous utilisez ce produit. La créatine monohydrate est probablement la complément alimentaire le plus étudié dans l'industrie de la nutrition sportive. Plus de 200 études scientifiques ont démontré son efficacité et son innocuité. Chaque lot de Qualitine est testé par un laboratoire indépendant afin d'être sûr que la pureté du produit et ne soit pas inférieur à 99,9% ! Gaspari Nutrition redéfinit une fois de plus les standards de qualité auxquels toute l'industrie de la nutrition sportive devrait se soumettre.
ACHETER QUALITINE GASPARI 300 GR DE CREATINE PURE 

Utilisation suggérée de Qualitine 300g Gaspari Nutrition :Mélangez une portion de 3g avec 250 - 500 ml d'eau ou autre boisson et buvez dans les 15 minutes. Consommez 1 service par jour.

Attention Qualitine 300g Gaspari Nutrition:
Ce produit est un complément alimentaire. En France l'ANSES recommande de ne pas dépasser 3g de créatine par jour. Les compléments alimentaires ne peuvent pas être utilisés comme substitut d'un régime alimentaire varié.
Tenir hors de portée des enfants.

* Ces déclarations n'ont pas été évaluées par la Food and Drug Administration. Ce produit n'est pas destiné à diagnostiquer, traiter, guérir ou prévenir une maladie quelconque.
INGREDIENTS 
Supplement Facts
Supplement Facts: 

Serving Size: One (1) Level Teaspoon (5g)
Servings Per Container: 60

Amount Per Serving
Micronized Creatine 5g
Monohydrate 99.9% Pure

Other Ingredients: None
---
Erreur: Failed to retrieve the Currency Converter XML document.