| | |
| --- | --- |
| | Votre panier est actuellement vide. |
Cortisol Support w/Relora 90 caps
Soutient le fonctionnement des surrénales et améliore la réponse au stress... evite la perte des muscles .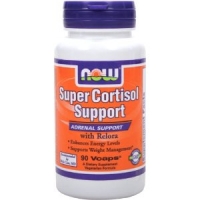 Agrandir l'image
Fournisseur : Now Foods
Description
Adrenal Support est un mélange synergique d'extraits de plantes, de minéraux et de vitamines conçu pour soutenir la santé des glandes surrénales et la gestion du stress. Les glandes surrénales jouent un rôle fondamental dans la réponse au stress. Elles produisent et sécrètent en effet, en réponse à des stress, des hormones telles que le cortisol, l'adrénaline ou la noradrénaline. 

¤ Une déficience en pantothénate de calcium peut se traduire par de la fatigue, des maux de tête et des insomnies. Le pantothénate de calcium est un composant de la coenzyme A (CoA), une coenzyme vitale à tout un éventail de réactions essentielles. Elle intervient notamment dans la synthèse des acides gras essentiels, du cholestérol, des hormones stéroïdes, ainsi que de l'acétylcholine, un neurotransmetteur, et de la mélatonine. 

¤ L'extrait d'éleuthérocoque (Eleutherococcus senticosus) agit comme un adaptogène. Il augmente la résistance au stress et améliore les performances. Il renforce la mémoire et les sensations de bien-être, tout en réduisant la fatigue. 

¤ L'extrait de Rhodiola rosea a également des propriétés adaptogènes. 

¤ L'excrétion de la vitamine C est augmentée en cas de stress. La vitamine C est indispensable à la production d'épinéphrine et de norépinéphrine. 

¤ La L-tyrosine est le précurseur de la noradrénaline et de l'adrénaline. Une supplémentation en L-tyrosine stimule les surrénales des sujets stressés et accroît leur énergie. 

¤ L'extrait de maca (Lepidium Meyenii), ou ginseng péruvien, est traditionnellement utilisé dans le syndrome de fatigue chronique pour stimuler l'énergie et la force. Des recherches suggèrent qu'il favorise le bon fonctionnement des glandes surrénales. 

¤ L'extrait de tulsi (Ocimum sanctum L.) a de remarquables effets adaptogènes et anti-stress traditionnellement utilisés par la médecine ayurvédique et confirmés par la recherche moderne. Il favorise la réponse au stress en aidant, notamment, à normaliser les niveaux de cortisol, l'hormone du stress. 

¤ Le magnésium est le minéral anti-stress par excellence et tous les types de stress peuvent provoquer des fuites urinaires de magnésium. Un déficit en magnésium accroît la sensibilité au stress. 

Des enzymes dépendantes du zinc jouent un rôle important dans la synthèse de l'ADN, le métabolisme des neurotransmetteurs, la neutralisation des radicaux libres et le métabolisme de tout un éventail d'hormones (thyroïde, de croissance, hormones sexuelles et insuline) qui sont souvent épuisées par un stress excessif. Adrenal Support est donc une solution naturelle complète pour favoriser le bon fonctionnement des glandes surrénales et aider l'organisme à répondre efficacement aux stress de la vie contemporaine.
Le cortisol est une hormone stéroïde qui est libérée dans l'organisme en réponse à un stress physique ou psychologique
Ingredients 
Serving Size: 1 capsule

Amount Per Serving

%Daily Value

Vitamin C (from Calcium Ascorbate)

33 mg

60%

Pantothenic Acid (from Calcium Pantothenate)

10 mg

100%

Calcium (from Calcium Carbonate and Ascorbate)

12 mg

2%

Magnesium (from Magnesium Oxide)

8 mg

2%

Chromium (from Chromium Chelavite AAC)

20 mcg

15%

Relora (A proprietary blend of a patented** extract from Magnolia officinalis bark and a proprietary extract from Phellodendron amurense bark)

200 mg

†

Green Tea Extract (Camellia sinensis) (Leaf) (min. 95% Total Polyphenols and 50% EGCg)

90 mg

†

Soy Lecithin

50 mg

†

Ashwagandha Extract (Withania somnifera) (Root) (min. 4.5% Withanolides)

20 mg

†

Holy Basil Extract (Ocimum tenuiflorum) (Leaf) (min. 2% Ursolic Acid)

20 mg

†

Reishi Mushroom (Ganoderma lucidum) (Whole Fruiting Body)

20 mg

†

Rhodiola Extract (Rhodiola rosea) (Root) (min. 3% Rosavins)

20 mg

†

Banaba Extract (Lagerstroemia speciosa) (Leaf) (min. 1% Corosolic Acid)

4 mg

†

† Daily Value not established. 
**U.S. Patent No. 6,582,735.

Adultes. Prendre un comprimé deux fois par jour ou selon les conseils de votre thérapeute. 

---