| | |
| --- | --- |
| | Votre panier est actuellement vide. |
Joint support - 180 gelules - Now foods
Joint support 180 caps est utile pour vos articulations et la sante de vos os ! Prenez de l'avance sur l'age ou donnez leur de la force ...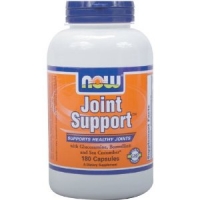 Agrandir l'image
Fournisseur : Now Foods
Description
Les points forts de Heart Support de la marque NOW FOOD:- Une formule très riche en nutriments essentiels !- Soutient votre système cardiovasculaire- Propriétés antioxydantes- Formule bien êtreHeart Support de la marque NOW FOOD est un supplément particulier, mis au point dans le but de fournir un apport nutritionnel à votre système cardiovasculaire. Cette association synergique de nutriments représente un complément parfait si l'on suit un régime pauvre en lipides saturés accompagné de séances d'exercices régulières. Heart Support de la marque NOW FOOD contient une large panoplie d'éléments indispensables  à votre bien-être et votre santé. Il y à dans sa composition, des glucides, des Vitamines, de l'Iode, du Gingembre, la célèbre Coenzyme Q10 très efficace pour traiter l'hypertension et l'insuffisance cardiaque légère. Par ailleurs, la marque NOW FOOD vous offre de plus un très grand choix d'autres références de la même gamme, essentielement des omégas-3 très riches en huile de poisson et des vitamines antioxydantes, pour une efficacité maximale.

180 CAPSULES

Supplement Facts

Serving Size2Capsules

Servings Per Container90

Amount Per Serving

% Daily Value

Vitamin C (As Ascorbic Acid)

67mg

110%

Niacin (As Niacinamide) (Vitamin B-3)

67mg

330%

Vitamin B-6 (From Pyridoxine HCl)

33mg

1650%

Pantothenic Acid (From D-Calcium Pantothenate)

67mg

670%

Magnesium (From Magnesium Oxide)

133mg

35%

Zinc (From Zinc Picolinate)

10mg

70%

Copper (From Amino Acid Chelate)

2mg

100%

Manganese (From Amino Acid Chelate)

5mg

250%

Glucosamine HCL

667mg

Boswellin

200mg

(Standardized Herbal Extract Of Boswellia Serrata)

Sea Cucumber

100mg

Bromelain (2000 GDU Activity From Pineapple)

100mg

PABA (Para-Aminobenzoic Acid)

67mg

Alfalfa Juice Concentrate

67mg

Daily Value not established
Other Ingredients

Gelatin (Capsule), And Magnesium Stearate.

Contains No Sugar, Salt, Starch, Yeast, Wheat, Gluten, Soy, Milk, Egg Or Preservatives.

Boswellin Is A Registered Trademark Of Sabinsa Corp.
Directions For NOW Joint Support: As a dietary supplement, take 2 capsules 1 to 3 times daily with meals.
Warnings: Persons with a known allergy to shellfish should not use this product.
---