| | |
| --- | --- |
| | Votre panier est actuellement vide. |
Detox Intestin Femme 14 jours 104 caps
The Cleaner 14 jours pour femmes est le meilleur des nettoyants du colon et de parasites ....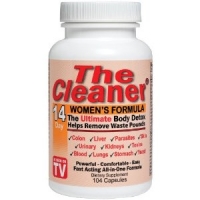 Agrandir l'image
Fournisseur : Century Systems
Description
Êtes-vous préoccupée par la constipation, des excès de gaz, un gonflement de l'estomac ou des maux de tête récurrents? Alors considerez ce nettoyant de 14 jours non stop.
Avez-vous des kilos en trop, en particulier autour de la taille?
Êtes-vous souvent fatigué et faible en énergie?
Cest probablement a cause de toutes les toxines qui sont accumulees dans votre corps !
Le ® Cleaner est un puissant système de soutien interne et de  totale purification. Il traite les 'organes et nettoie les  parasites avec une simple capsule à avaler. Les effets de  Cleaner ® ont rapides et puissants mais assez doux pour vous permettre de voyager, de travailler et de continuer votre routine habituelle. Le ® Cleaner utilise des capsules végétales au lieu de la gélatine .Prendre 4 gélules le soir du jour 1, puis prendre 4 gélules le matin et 4 le soir les jours 2 à 7. Buvez au moins 8 à 10 verres d'eau par jour. Après 3 jours, si vous n'êtes pas à la selle par jour, augmenter 2 gélules par dose. Prenez autant que nécessaire pour atteindre la régularité des selles par jour jusqu'à un maximum de 8 capsules par dose. Peut être utilisé en continu pendant jusqu'à 14 jours puis une pause de 30 jours avant le redémarrage
Ingredients
Zinc (as zinc citrate) 7.5 mg 50
Melange de 1,750 mg DV not established
Fibersol-2 soluble maltodextrin fiber, Ginger root, Senna leaf extract (10% sennosides), Aloe vera gel (from 200:1 concentrate), Bentonite, Yellow dock root, Dandelion root 4:1 extract, Clove (dried buds), Black walnut bark, Chastetree berry, Dong Quai root extract, Milk thistle seed extract (80% silymarin), Caprylic acid, Triphala extract [contains amla fruit (Emblica officinalis), bibhitaki fruit (Terminalia belerica), haritaki (Terminalia chebula)], Elecampane root, Schizandra berry extract (9% schizandrins), Cat's claw bark, Calcium Citrate, FOS probiotic growth complex (fructo-oligosaccharides), Magnesium citrate, Blessed thistle (leaves and flowering tops), Red clover 4:1 extract (aerial parts), Peppermint leaf, Wormwood (flower), Soy fiber, Oat bran, Apple pectin, Acacia gum, Psyllium husk, Goldenseal root extract (5% alkaloids), Corn silk (stylus).

Other ingredients: Microcrystalline cellulose, magnesium stearate and silica.
Posologie 
Prendre 4 gélules le soir du jour 1, puis prendre 4 gélules le matin et 4 le soir les jours 2 à 7. Buvez au moins 8 à 10 verres d'eau par jour. Après 3 jours, si vous n'êtes pas à la selle par jour, augmenter 2 gélules par dose. Prenez autant que nécessaire pour atteindre la régularité des selles par jour jusqu'à un maximum de 8 capsules par dose. Peut être utilisé en continu pendant jusqu'à 14 jours puis une pause de 30 jours avant le redémarrage
---