| | |
| --- | --- |
| | Votre panier est actuellement vide. |
PES ANABETA - 120 Cap
Un tout nouveau booster de testosterone a utiliser et a essayer ..une decouverte !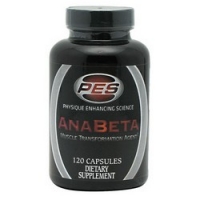 Agrandir l'image
Fournisseur : Performance Nutrition
Description
Un tout nouveau booster de testosterone a utiliser et a essayer , une decouverte ! Les jours d'entraînement: prendre 1 capsule 4 fois par jour. Prendre 1 des capsules 1 heure avant l'entraînement, avec ou sans nourriture, et 1 capsule avec les bougé après l'entraînement ou un repas. Prenez les 2 autres capsules réparties dans la journée, avec repas. Le non-formation jours: prendre 1 capsule quatre fois par jour avec repas. Etalez doses tout au long de la journée. En raison de la puissance extrême ne dépassent pas plus de 6 gélules dans une période de 24 heures.
Ingredients
Serving Size: 1 Capsule

Servings Per Container: 120

Amount Per Serving

Serving

% DV

Anacyclus pyrethrum DC (root) Extract

 

Other Ingredients: Gelatin, Magnesium Stearate, Silicon Dioxide, Titanium Dioxide, FD&C Yellow #5, FD&C Blue #1.
*These statements have not been evaluated by the Food and Drug Administration. This product is not intended to diagnose, treat, cure or prevent any disease.
†Nutritions Facts are a simulation of the product "Nutrition Label". For the actual Nutrition Label please refer to the product packaging.
Ce produit est uniquement destiné à être consommé par des adultes sains âgés de 21 ans ou plus. Il est conçu pour des adultes en bonne santé qui s'intéressent à la musculation. Les femmes enceintes ou qui allaitent ne devraient pas utiliser ce produit. Consultez votre fournisseur de soins de santé avant d'utiliser ce produit, surtout si vous prenez n'importe quelle prescription, sur le médicament, produit contre supplément diététique ou si vous avez n'importe quelle condition médicale préexistante, y compris mais non limité à: la pression artérielle élevée ou faible, l'arythmie cardiaque , accident vasculaire cérébral, cardiaque, hépatique, rénale ou maladie de la thyroïde, troubles épileptiques, maladie psychiatrique, diabète, difficulté à uriner due à l'élargissement de la prostate ou si vous prenez un inhibiteur de la MAO-B ou tout autre médicament. Cesser d'utiliser et de consulter immédiatement votre médecin si vous ressentez un effet indésirable à ce produit. Ne pas dépasser la dose recommandée. Ne pas utiliser si le sceau de sécurité est brisé ou manquant. Tenir hors de portée des enfants.
---