| | |
| --- | --- |
| | Votre panier est actuellement vide. |
ISA TEST-Isatori Advanced Testosterone Formula, 104 Capsules
ISA TEST-Isatori Advanced formule booster de testosterone , 104 Capsules qui Augmente nettement la testostérone en moins d'une heure ! Garanti !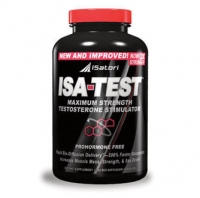 Agrandir l'image
Fournisseur : Isatori
Description
ISA TEST 104 Capsules
Utilisant le premier inhibiteur d'œstrogène P-450™ et actionné par la nouvelle technologie rapide de la livraison MicroFlow 3™... ISA-TEST est garanti pour augmenter nettement vos niveaux de testostérone  libre et bio disponible, naturellement, toutes les fois que vous voulez... avant de vos entraînements ou  n'importe quand (jour ou nuit) que vous voulez une testostérone supplémentaire.
Pensez cela : Masse musculaire. Force. Commande Sexuelle. Il sera tout avec  vous maintenant. Et le meilleur de tous, vous "le sentirez" fonctionner dès la première fois que vous le prenez !
·  Augmente nettement des niveaux de testostérone libre et bio disponible
·  PREMIER avec l'inhibiteur d'oestrogène P-450™
·  Technologie Rapide de la livraison MicroFlow 3™
·  Non interdit par toute organisation sportive ou de gouvernement
·  Gains explosifs dans la force, la masse musculaire et la commande sexuelle

Utilisation Recommandée : Comme supplément diététique, prenez 4 comprimés avec un verre de l'eau une heure avant l'exercice. Des jours de non-formation, prenez 4 comprimés une heure avant l'heure du coucher. Prenez avec ou sans la nourriture. Pour les meilleurs résultats employez sans interruption pour 8 semaines au minimum.
Faits du Supplément
Taille de la dose : 4 comprimés
Doses par récipient : 26

 

 

Quantitie par dose de 4 comprimes

Vitamine C

 

 

25mg

 

 

28%

 

 

Pyridoxine (B6)

 

 

7mg

 

 

538%

 

 

Magnésium (comme aspartate de magnésium)

 

 

300mg

 

 

71%

 

 

Zinc (comme aspartate de zinc)

 

 

20mg

 

 

182%

 

 

ISA-TEST  contenant le mélange breveté:

 

 

1.61g

 

 

†

 

 

Extrait de Tribulus Terrestris de (total de 60% saponines/ 20% protodioscines), Eurycoma longifolia 20:1 Extrait (Longjax) 20% eurypeptides, Epimedium sagittatum & Epimedium brevicornum Extrait (standardisé for 10% icariin), P-450 Anti-Aromatase(s)-2, 3-dihydroxy 5, 7 dihydroxy 2-(3-hydroxy-4-methoxyphenyl)-4-H-1- benopy-ran-4-one], ajuga turkestanica and rhaponticum carthamoides Racine Extrait (standardisé for 11,20 dihydroxyecdysone, 20-beta-hydroxyecdysone and 25-deoxy-20-hydroxyecdysone), Grapeseed Extrait (95% oligomeric proanthocyanidins)

 

 

Micro Flow 3

 

 

100mg

 

 

†

 

 

Système de la livraison de Micro -circulation/nutriments [ particulièrement préparé hespéridine méthylique chalcone, ruscus (22% sterolic hétérosides) et complexe de vitamine C

 

 

D'autres ingrédients : Talc, Cellulose Microcristalline, Stéarate de Magnésium et gélatine.

* Des pourcentages de valeurs quotidiennes sont basés sur un régime de 2.000 calories.

†Valeur quotidienne non établie.

 

 
---